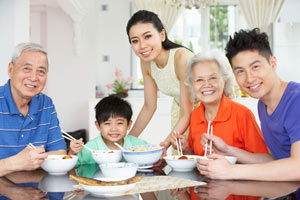 It's official. The size of China's middle class has surpassed the U.S. middle class for the first time ever.
The population of middle class adults in Asia's largest country reached 109 million this year, according to a new Credit Suisse report released Oct. 13. The report defines "middle class" differently depending on the country. Middle-class Chinese individuals, per the report, are those who earn at least $28,000 per year. Here in the United States, for an individual to be considered part of the middle class, he or she must make $50,000 per year.
Since 2000, twice as many Chinese as Americans have joined the middle class, reported CNN Money on Oct. 14. The hard numbers are astounding. Within that span of time - 15 years - China added 43.4 million adults to its middle class. The United States added about half that: 22 million.
In fact, also within the past 15 years, China's household wealth growth increased impressively as well...
China's Middle Class Is Speedily Gaining Wealth
China now accounts for a fifth of the world's population and holds nearly 10% of its wealth, reported Credit Suisse.
In 2000, the country's wealth was similar to that of the United States circa 1939, Credit Suisse's report found. However, by 2015, it had expanded to the level of the U.S. circa 1972.
That's a 33-year jump in less than half the time.
Household wealth in China is expected to continue to exceed the growth rate of developed economies, possibly creating 2.3 million millionaires by 2020. That's a 74% increase from today.
While Credit Suisse's report punctuates a legitimately impressive economic development, it's also worth keeping in perspective...
Only 11.3% of China's overall population is in the middle class or above, reported Slate on Oct. 14, compared with 50% in the United States. Eighty-two million Chinese, or more than a quarter of the total U.S. population, still struggle to get by on less than a dollar per day.
Find us on Twitter @moneymorning.
Social Security Suffers the Domino Effect: For the third time in five years, there will be no Social Security benefits increase for the next fiscal year. Unfortunately, the bad news for seniors doesn't stop here...
Related Articles: