China's central bank on Friday cut both Chinese interest rates and banks' reserve requirement ratio. It's an effort to boost China's slowing economy.
The People's Bank of China (PBOC) trimmed its benchmark lending and deposit rate by 0.25% each. They are now at 4.35% and 1.5%, respectively. Both will be effective Saturday. China's interest rates have now been cut six times since November 2014.
The cut in Chinese interest rates comes just days after China reported its slowest GDP growth rate since the Great Recession.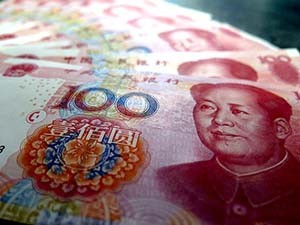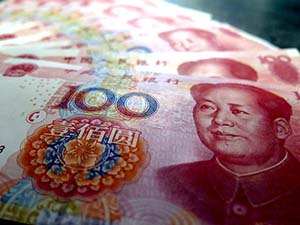 Data released Monday showed China's economic growth rate was 6.9% in Q3. That was the first time it slipped below 7% since 2009. The slowing growth raised doubts that China will be able to reach its official target growth rate of 7% for the full year. China hasn't logged a full-year growth rate less than 7% in 25 years.
That slowing growth has investors around the world taking notice...
The Chinese economy has been responsible for nearly one-third of all global growth over the past seven years.
With Chinese imports in September slipping for the 11th consecutive month, and producer prices stuck in deflation for three years, boosting China's economy won't be easy.
China's central bank is committed to stimulating growth, however. Here are the moves the PBOC has taken recently, including cutting Chinese interest rates...
Lowering Chinese Interest Rates Is Just One Strategy
On Aug. 11, China's central bank unexpectedly allowed the yuan to trade more freely. The PBOC typically sets a daily 2% midpoint around which the yuan can rise and fall. But going forward, the midpoint will be based on the previous day's closing price.
On Aug. 25, the PBOC cut its key lending rate 0.25% to 4.6%. That marked the fifth time China's central bank trimmed rates since last November. The PBOC also lowered the amount banks are required to hold in reserves, a move aimed to spur lending.