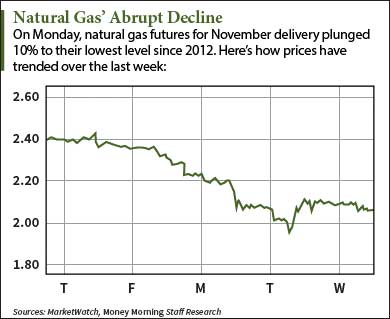 Natural Gas Price Forecast: Natural gas prices are having their worst week in three years as futures struggle to stay above $2.
At 10:45 a.m., natural gas prices today (Wednesday) were down 2.1% and trading at $2.05 per million British thermal units (BTUs). The commodity sank 10% on Monday to $2.06 - the lowest settlement since April 2012 - and hit an intraday low of $1.95 on Tuesday. It's down 10.5% so far this week.
The biggest short-term factor pulling the natural gas price down is today's expiration for "hurricane season" futures contracts.
You see, the Atlantic hurricane season factors into traders' natural gas price forecast because storms threaten production in the Gulf of Mexico and boost demand. But the season traditionally ends on Nov. 30. With today being the expiration date for November futures contracts, many traders who bet on the hurricane rally sold off before contracts roll into December and hurricane season ends.
Mounting natural gas supply is also sending prices lower. According to the Energy Information Administration (EIA), U.S. inventory stands at about 3.8 trillion cubic feet as of Oct. 16. That's 163 billion cubic feet above the five-year average.
And as supply keeps growing, natural gas prices are nearing a bottom.
According to Money Morning Global Energy Strategist Dr. Kent Moors, there are huge changes happening in the industry that will send natural gas demand and prices into a decades-long rally.
In fact, his natural gas price forecast is fueled by these three "game changers" that will transform natural gas investing forever...
Natural Gas Price Forecast Game-Changer No. 1: Role in Power Production
Thanks to strict carbon emission laws, electricity companies are transitioning from coal usage to natural gas usage. By the end of this year, coal's share of power production will only be 35.6%. That's down from 38.7% in 2014.
Meanwhile, natural gas' share of power production should increase from 27.4% in 2014 to 31.2% in 2015. It should also make up 22% of all new generating capacity coming on line this year.
The huge switch to gas-sourced power will consume a massive chunk of excess supply. Right now, natural gas inventory is estimated to increase to 3.87 trillion cubic feet by the end of October.
"If only 75% of fuel sourcing comes from natural gas, we require almost three times the current surplus inventory just for power generation," Moors noted.
And as consumption surges, natural gas prices will rise accordingly.
Natural Gas Price Forecast Game-Changer No. 2: Auto and Petrochemical Sectors
Many industries are increasing natural gas consumption. The two biggest consumers are the auto and petrochemical sectors.
[mmpazkzone name="in-story" network="9794" site="307044" id="137008" type="4"]
Natural gas-powered and hybrid cars are currently being developed in North America. In fact, the Canadian branches of General Electric Co. (NYSE: GE) and Royal Dutch Shell Plc. (NYSE ADR: RDS.A) are collaborating to design high-end trucks to run on liquefied natural gas (LNG). The partnership aims to permanently replace diesel trucks with LNG-powered vehicles.
But the greater impact will come from the petrochemical industry. Many U.S. petrochemical companies are changing their production facilities from oil to natural gas. That shift is huge because these petrochemical firms are crucial to numerous industries, including the agriculture industry. The USDA reported the agriculture industry alone made up 4.7% - or $789 billion - of the U.S. GDP in 2013.
"There are seven major projects under consideration at the moment," Moors explained. "Three facilities are likely to be approved. Beaver County in western Pennsylvania should be one of the three, with the other two probably on the Gulf Coast."
But the most significant game changer will be the exploding LNG trade...
Natural Gas Price Forecast Game-Changer No. 3: The Revolutionary LNG Market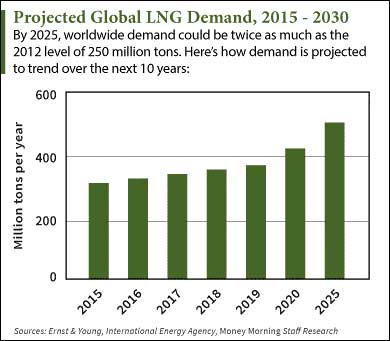 LNG is natural gas cooled to a liquid state. Natural gas has always been a locally traded commodity since it can't be transported long distances. As a liquid, it can be loaded onto tanker ships and transported anywhere in the world.
The United States is expected to start exporting LNG in 2016 to meet surging global demand. This will be the first time the U.S. Department of Energy has allowed oil and gas exports since 1973.
"The idea of U.S. LNG exports is so strong and unstoppable that it has the power to change the world," Moors said. "It's the result of one of the biggest reversals of fortune I have ever witnessed."
Global LNG demand is expected to hit 420 million tons a year (mt/y) in five years and 500 mt/y in 10 years. Since 1 billion cubic feet of natural gas is equal to 21,000 tons of LNG, demand in five years will equal around 20 trillion cubic feet a year.
The International Energy Agency (IEA) forecasts Japan, South Korea, and Taiwan will make up the highest percentage of global demand. China alone expects to triple its natural gas consumption by 2020.
The Bottom Line: Although natural gas prices are falling this week, our natural gas price forecast shows it's on the verge of an incredible rebound. Natural gas' role in power production, use in the auto and petrochemical sectors, and global export potential will boost prices for the foreseeable future. These "game changers" will create an integrated global natural gas market the likes of which we've never seen before.
Alex McGuire is an associate editor for Money Morning who writes about commodities. Follow him on Twitter for all of the biggest oil and gas updates.
This Is a Huge Week for Oil Companies... Many Big Oil firms like Exxon and Shell report Q3 earnings this week. With oil prices coming off their worst quarter in years, this could be the most disappointing round of oil earnings yet this year...