I don't normally "do politics," but today I'm going to make an exception because recent history suggests Hillary Clinton could rise to the top and, in the process...
...make savvy investors millions.
Intrigued?
I hope so. What I have to tell you is a story based as much on rhetoric as reality. It's built on an opportunity that cuts deeply and, to be perfectly blunt, may be offensive depending on your personal views.
Yet, the story that follows and the two investment recommendations I've got for you today could be the most profitable investments you make all year.
Both have deep competitive moats and even deeper margins than other stocks and could benefit from a boost that you're not going to find in any other industry coming into the presidential election.
The last time a politician took aim at this industry, it doubled during the worst financial crisis in recent memory.
President Obama Hates Guns, Yet Is the World's Best Gun Salesman
President Obama has supported anti-gun legislation for decades.
At one time or another, he's on record as wanting to limit purchases, ban concealed carry permits, increase gun maker liability, and reintroduce the expired Federal Assault Weapons Ban, among other things.
You'd think the industry would crumble under that sort of onslaught, considering it's coming directly from the top. In fact, exactly the opposite has happened. Guns, firearms, and ammunition have flown off the shelves since his election in 2008.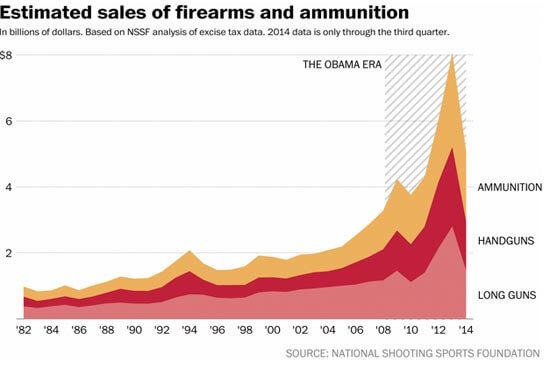 So much so that the firearm sector became one of the few standouts during the dark economic days of 2008-2009. "Our industry is proud to be one of the bright spots in this economy," declared the National Shooting Sports Foundation in promotional literature at the time.
Most people are unaware that the gun industry's economic output doubled from 2008-2011, rising from $6.8 billion to $13.6 billion, at a time when the limping U.S. economy grew just 11% by comparison.
Naturally, firearm-manufacturing companies saw their stock prices rise right along with surging sales.
By the end of President Obama's first term, Smith & Wesson Holding Corp. (Nasdaq: SWHC) had surged more than 272%, outpacing the gains of the S&P 500 by more than 3-to-1 despite a historic bull market fostered by the Fed's cheap money policies.
Competitor Sturm, Ruger & Co. Inc. (NYSE: RGR) was trading at $5.27/share the day President Obama was sworn in. When he was re-inaugurated, it was trading 815% higher at $48.26 a share.
Fast forward three years and the growth isn't slowing down for a New York minute. Neither, unfortunately, are the tragic shootings fueling one of the greatest social divides in U.S. history. According to the Gun Violence Archive, there have been an appalling 274 mass shootings in which four or more people died in the United States so far this year alone.
Gun sales are soaring, the government still doesn't track individual sales, and the FBI background check is a farce for all but the most hardened criminals (who obviously don't care anyway).
Smith & Wesson stock is up another 100% despite more than tripling during Obama's first term, and may rack up $600 million in sales this year, a 50% increase from 2010 levels. Sturm Ruger is doing even better and is tracking $500 million, or nearly double what it did in 2010, according to FactSet.
As impressive as those figures are from a financial perspective, they're a fraction of what could happen next.
Join the conversation. Click here to jump to comments…
About the Author
Keith is a seasoned market analyst and professional trader with more than 37 years of global experience. He is one of very few experts to correctly see both the dot.bomb crisis and the ongoing financial crisis coming ahead of time - and one of even fewer to help millions of investors around the world successfully navigate them both. Forbes hailed him as a "Market Visionary." He is a regular on FOX Business News and Yahoo! Finance, and his observations have been featured in Bloomberg, The Wall Street Journal, WIRED, and MarketWatch. Keith previously led The Money Map Report, Money Map's flagship newsletter, as Chief Investment Strategist, from 20007 to 2020. Keith holds a BS in management and finance from Skidmore College and an MS in international finance (with a focus on Japanese business science) from Chaminade University. He regularly travels the world in search of investment opportunities others don't yet see or understand.