Gold prices today (Friday) were down $1.70 at $1,145 in early trading as investors continue to tread cautiously after a hawkish FOMC statement.
Gold prices slid to a three-week low Thursday after the U.S. Federal Reserve made it clear on Wednesday a December interest rate hike is still on the table. Gold ended Thursday's session down $28.80, or 2.4%, at $1,147.30 an ounce.
The gold market had closed Wednesday before the Fed's announcement. So, Thursday's session was the first chance precious metal investors had to react to the central bank's more aggressive tone.
U.S. policymakers left interest rates unchanged after its meeting this week, but the committee said it may raise rates in December. That sent the dollar higher, pushed Treasury yields up, and put heavy pressure on safe havens like gold.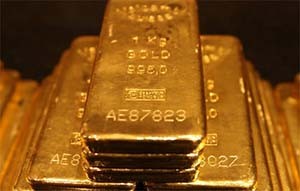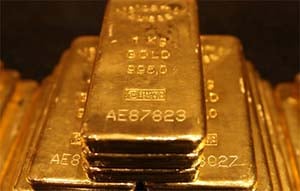 A stronger dollar makes gold more expensive for buyers who pay via foreign currency. Higher yields, meanwhile, make gold less attractive relative to bonds.
And it isn't just the Fed that has kept precious metal investors guarded. Investors have also been watching some conflicting economic data...
This Economic Data Is Moving Gold Prices Today
The U.S. Commerce Department's first reading of Q3 domestic economic growth showed a tepid rise of just 1.5%. Released Thursday, the GDP report revealed a sharp slowdown from Q2's 3.9% pace.
The U.S. economy has struggled to sustain a faster pace of growth since the end of the 2007-2009 Great Recession. Since then, average yearly growth has failed to break out above 2.5%.
The uninspiring Q3 2015 GDP report would typically be bullish for gold prices. But the data was offset by better than expected weekly initial jobless claims data, also out on Thursday.
New applications for unemployment benefits increased by 1,000 to a seasonally adjusted 260,000 for the week ended Oct. 24. That leaves the four-week average at its lowest since late 1973. It was also the 34th consecutive week that claims were below the 300,000 threshold, which is normally associated with a healthy jobs market.
While the prospects of a U.S. interest rate increase has been impacting gold prices for over a year, loose monetary policies from other global central banks should provide a catalyst for gold prices...