This week I heard from a reader with a question I bet is on every investor's lips.
Q: Michael, Excellent written article ... However, I am curious on your "take" as we move into fall and December - What about the notorious "Christmas rally"? ~ James B.
A: James, the S&P 500 has rallied a remarkable 13% in the last five weeks, recapturing all of its summer losses. The Dow Jones Industrial Average jumped by 8.5%, while the S&P 500 soared by 8%, and the Nasdaq Composite Index outdid them both with a 9.38% performance. Even more noteworthy is that the three major indices have done this in the face of unrelentingly poor economic data. (More on that in a minute.)
So it's no surprise you're wondering, as we sit here in the first week of November, whether Santa Claus came early or whether the market will keep "melting up" through the end of the year. And I bet you're not the only one.
Here's the number I'm looking at...
Just FOUR Stocks Caused 20% of This Market Rally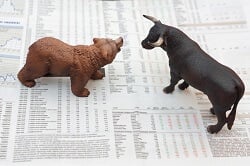 As I told you last week, nobody expected the type of market rally we saw in October.
But here's what people are missing.
Twenty percent of the gain in the S&P 500 in October was accounted for by a near $300 billion rise in the value of just four stocks - Amazon.com Inc. (Nasdaq: AMZN), Apple Inc. (Nasdaq: AAPL), Microsoft Corp. (Nasdaq: MSFT), and Facebook Inc. (Nasdaq: FB).
In fact, the only bright spot has been the strong earnings reported by a select number of large-cap tech giants like these. The rest of the earnings landscape has been lousy.
While other stocks did gain ground, including beaten-up energy and industrial names, much of the market remains in a stealth bear market with year-to-date losses of 20% or more. And while the market had a great month in October, many of the big-name hedge funds had catastrophically poor months and are nursing double-digit losses for the year.
Unless you own the limited number of stocks that are rising, you are not participating in this rally.
The reason why the rally is so narrow is that its underpinnings are extremely weak. Basically, the market moved up as economic data deteriorated through the month. Third-quarter U.S. GDP came in at an anemic 1.5%. The manufacturing PMI number came in at 50.1, a number that points toward recession. The last two times this number hit 50, the Fed initiated QE in 2011 and 2012. The news from abroad isn't any better. China's economy is getting worse, not better, while Japan remains stuck in terminal decline and Europe is struggling while it waits for another round of QE from the ECB. Corporate earnings are weak because the economies in which corporations are operating are weak domestically and globally.
But investors, being a herd-driven and Pavlovian bunch, decided to stick to the old playbook of "bad news is good news" in October. The worse the news got, the more they believed that central banks would come to their rescue again. The only problem with this scenario is that central banks have not come to their rescue; these confederacies of dunces with economist Ph.Ds. have merely propped up weak economies by drowning them in more debt that can never be repaid. The longer they keep interest rates at zero and print more debt, the longer it will take for economic recovery to occur.
So what does this mean for stock market investors?
There's a Lesson in This Chart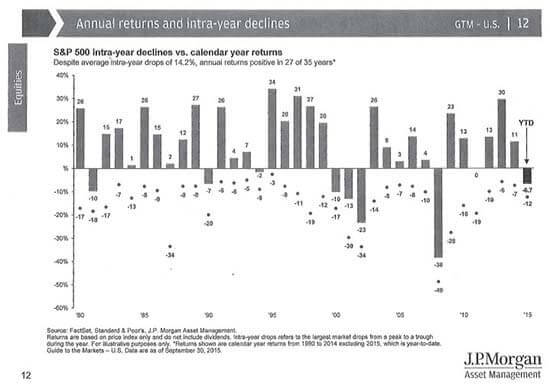 Check out this chart. Since 1980, the S&P 500 has experienced average intra-year drops of 14.2% but has produced positive average returns in 27 of those 35 years. This year, the S&P 500 was down as much as 12% before staging its recent rally. In 2013, it was down as much as 6% before closing the year up 30%.
The point is that, without exception, the market drops at some point during the year but tends to end up with a positive return. That is why investing in the stock market is a marathon and not a sprint. But when the market becomes dangerously overvalued, it is still prudent to reduce exposure. And I believe we are again at one of those points after the recent rally.
So What's Next for Stocks?
I honestly have no idea whether stocks will keep on rallying. Nobody does. But my best judgment is that they will not.  Having already hit my year-end target of 1,875 to 1,900 in September, I believe the S&P 500 is entering a bear market and we are now experiencing a classic bear market rally.
Could stocks keep defying gravity and rally into year end? Definitely. Some strategists like Tom Lee are calling for the S&P 500 to reach 2,350 by Dec. 31, a rise of another 12%. But Mr. Lee is always telling people stocks are going up, and even a broken clock is right twice a day.
[mmpazkzone name="in-story" network="9794" site="307044" id="137008" type="4"]
I think it's more likely that most of the rally is in the books. There are too many economic headwinds to support much higher stock prices, especially if the Fed finally carries through with its threat to raise rates for the first time in nearly a decade in December. Stocks are now back at the same overvalued level from which they corrected in August. Long-term investors can stay the course, but traders should be grateful for the early Christmas rally and take their gains and go home.
Or make some of the moves I'm going to be showing you here...
Follow us on Twitter @moneymorning.
Editor's Note: As October's stock market rally cools off, it's important to protect your portfolio. Michael Lewitt's Sure Money readers are getting the updates they need to prepare themselves - and even profit - as stocks dive lower. Click here to receive Sure Money yourself at no charge, and you'll also get his "Super Crash Report."
About the Author
Prominent money manager. Has built  top-ranked credit and hedge funds, managed billions for institutional and high-net-worth clients. 29-year career.