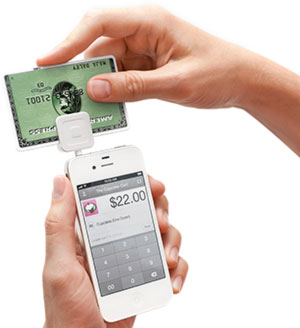 The Square IPO price range is $11 to $13 a share. The company has also announced it will list on the New York Stock Exchange with the ticker "SQ."
The deal is one of the most anticipated IPOs of 2015. Investors hope Square will revive the sluggish IPO market. There was only one tech deal last quarter - down 86% from the year-ago quarter.
With the Square IPO price range officially announced, here's everything you need to know about the deal - including whether or not you should buy Square stock when it starts trading...
Your Square IPO Questions Answered
When is the Square IPO date?
Shares of Square Inc. (NYSE: SQ) are expected to price during the week of Nov. 16. SQ stock will begin trading the day after the IPO prices.
How much money will the Square IPO raise?
According to Renaissance Capital, a manager of IPO-focused ETFs, Square will sell 27 million shares. At the high end of the Square IPO price range, the deal will raise $351 million.
Who are the Square IPO underwriters?
The joint underwriters for the deal are Goldman Sachs Group Inc. (NYSE: GS), Morgan Stanley (NYSE: MS), JPMorgan Chase & Co. (NYSE: JPM), Barclays Plc. (NYSE ADR: BCS), Deutsche Bank AG (NYSE: DB), Jefferies, RBC Capital Markets, and Stifel.
How much is Square worth?
Following the IPO, Square will be valued at $4.2 billion. That's much higher than the pre-IPO valuations of other 2015 tech deals, including Etsy Inc.'s (Nasdaq: ETSY) $1.8 billion and GoDaddy Inc.'s (NYSE: GDDY) $3 billion.
However, the Square IPO valuation is substantially lower than its latest round of private funding. In its final Series E investment, the company was valued at $6 billion. The company will need to price its shares at $15.50 - about 19% above the high end of the range - in order to achieve the $6 billion valuation private investors had expected.
What kind of company is Square?
Square is a financial tech startup founded in 2009 by Jack Dorsey and Jim McKelvey. The company provides a mobile payment service for phones and tablets. Its Square Reader software plugs into a standard headset jack and lets people take credit and debit card payments. Each Reader costs about $10.
The Square IPO will come less than two months after CEO Jack Dorsey became permanent CEO of Twitter Inc. (NYSE: TWTR). Dorsey will be dividing his time and attention between the two tech companies. His dual roles with his two "children" has left investors wondering if he'll be able to head two publicly traded companies.
"This may at times adversely affect [Dorsey's] ability to devote time, attention, and effort to Square," the Square IPO filing stated.
How much money does Square make?
During the first half of 2015, Square earned $560.6 million in revenue, up 51% from the same period in 2014.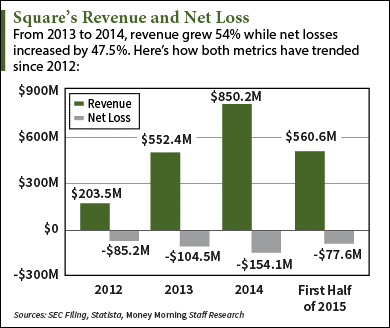 A large chunk of Square's revenue comes from its partnership with Starbucks Corp. (Nasdaq: SBUX). Back in 2013, all U.S. Starbucks locations started selling Square Readers and accepting payments from the Square Wallet payment app.
However, Square has been losing money for years now. It reported a net loss of $154.1 million in 2014, $104.5 million in 2013, and $85.2 million in 2012. So not only is it losing money, its losses are widening.
The company openly admitted in its IPO filing it may never achieve profitability.
"Our business has generated net losses, and we intend to continue to invest substantially in our business," the filing said. "Thus, we may not achieve or maintain profitability."
Now that we know everything about the Square IPO, the biggest question is...
Should I Buy Square Stock?