I've reviewed thousands of companies over the past 33 years in global markets, but none capture the imagination the way Ekso Bionics Holdings Inc. (OTCBB: EKSO) does.
The tiny exoskeleton maker just reported earnings and, as you might expect, there's broad-based growth in every metric that matters from revenue, to staffing, to new contracts, to overseas expansion. You name it.
But there's something the media isn't covering.
Ironically, it's the single most important factor in what I believe will ultimately be an exceptionally bright future for the company and savvy investors alike.
Here's why there's more upside for Ekso than any analyst will tell you.
7 Doubles in a Row Put the Odds in Your Favor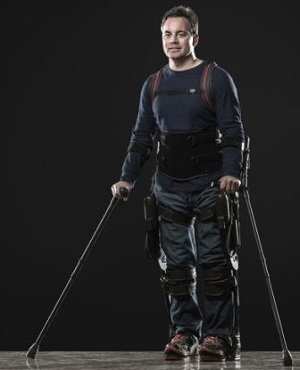 We spend a lot of time talking about the importance of lining your money up with Unstoppable Trends for one simple reason: doing so puts the odds of success in your favor.
Sadly, millions of investors do this backwards. They latch on to a promising young company making the latest gee-whiz-bang product and hope it'll catch on. Some do. Most don't.
Remember Everpix?
The company developed a simple, elegant photo-sharing service that was named a runner up at Tech-Crunch in 2011. It was better than most offerings today, yet failed because its founders were so focused on making the "perfect" product that they neglected their primary markets.
Or Plancast?
That company developed a social application intended to allow users to share social details with their friends. Only trouble was people are very private when it comes to actual plans and RSVPing.
Flying cars, the knowledge pill of the 1960s, and even nuclear bombs for excavation as a part of massive construction plans like damming the Amazon River! Gone, gone, and never made it, thank goodness!
My point is that every single one of those failed ventures started with a promising technology then had to find a market or a use that the companies themselves had to create.
Ekso, on the other hand, is doing the reverse. Like many of the world's top companies, CEO Nathan Harding and his team identified a need first. Now they're building out a suite of products to meet it.
As part of that, they're rethinking previously accepted limits on human mobility, strength, and endurance. But, again, the need is already there.
Most importantly, at least for savvy investors anyway, they're tapping into a multibillion dollar market that's already in play - a trend we call Human Augmentation.
What's great about doing things this way is that central bankers cannot screw this up any more than social medicine can derail the potential. If anything, both those influences will grease the skids, so to speak. Moreover, corporate America is going to love it because Human Augmentation will boost margins in everything from construction to manufacturing as the utility of using it rises.
The Boston Consulting Group suggests that automation will cut manufacturing labor costs by 18% to 33% in the United States, Germany, China, Japan, and South Kora by 2025, even as productivity rises by more than 30%. Granted, that's a statistic talking about pure robotics, but imagine what happens when a human augmented by robotics can lift three times his or her body weight on the line... or at a job site... or on a carrier deck somewhere. Suddenly robotics becomes an integral tool, not just a means to an end.
Join the conversation. Click here to jump to comments…
About the Author
Keith is a seasoned market analyst and professional trader with more than 37 years of global experience. He is one of very few experts to correctly see both the dot.bomb crisis and the ongoing financial crisis coming ahead of time - and one of even fewer to help millions of investors around the world successfully navigate them both. Forbes hailed him as a "Market Visionary." He is a regular on FOX Business News and Yahoo! Finance, and his observations have been featured in Bloomberg, The Wall Street Journal, WIRED, and MarketWatch. Keith previously led The Money Map Report, Money Map's flagship newsletter, as Chief Investment Strategist, from 20007 to 2020. Keith holds a BS in management and finance from Skidmore College and an MS in international finance (with a focus on Japanese business science) from Chaminade University. He regularly travels the world in search of investment opportunities others don't yet see or understand.