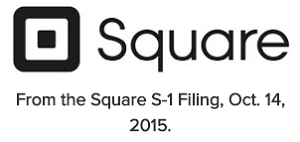 The Square IPO price was set at $9 a share last night (Wednesday, Nov. 18), far below the $11 to $13 price range. The Square IPO sold 27 million shares and raised $243 million.
At $9 a share, the company commands a $2.7 billion valuation. That's higher than Etsy Inc.'s (Nasdaq: ETSY) $1.8 billion pre-IPO valuation, but lower than GoDaddy Inc.'s (NYSE: GDDY) $3 billion.
Square Inc. (NYSE: SQ) was founded in 2009 by Jack Dorsey and Jim McKelvey. The firm offers a mobile payment service for phones and tablets. Its primary product, the Square Reader, plugs into the standard headset jack of mobile devices and allows users to take credit and debit card payments. Square Readers cost about $10 each.
The Square IPO comes less than two months after CEO Jack Dorsey became permanent CEO of Twitter Inc. (NYSE: TWTR). Dorsey will be dividing his time and attention between the two tech companies. His dual leadership leaves investors wondering if he'll be able to head two publicly traded companies.
"This may at times adversely affect [Dorsey's] ability to devote time, attention, and effort to Square," the Square IPO filing said.
But that's not the only influence on how the Square IPO performs today. The company is also unprofitable...
During the first half of 2015, Square posted $560.6 million in revenue. That's up 51% from the first half of 2014. About 11% of this year's sales have come from its partnership with Starbucks Corp. (Nasdaq: SBUX), which has been selling Square Readers at U.S. locations since 2013.
However, Square has lost $71 million since the partnership started. Starbucks has ended up accounting for 21% of Square's transaction costs this year. The firm is already in a $77.6 million hole this year and stated in the IPO filing it "may not achieve or maintain profitability."
Although the company will likely see big gains on the first day, we recommend not investing in the Square IPO. That's because IPO investing can cause huge losses for traders who aren't big-time investment bankers.
For investors looking at investing in SQ after the IPO period, we've developed this safe three-step strategy for investing in Square stock...
Follow the official Money Morning Twitter account for an update on the Square IPO price this evening.
Like us on Facebook, too: Money Morning
Is the Square IPO Valuation Justified? Many investors have been wondering why an unprofitable company like Square is worth a whopping $4.2 billion valuation. It's because the company belongs to a selective club of Silicon Valley startups called "tech unicorns"...