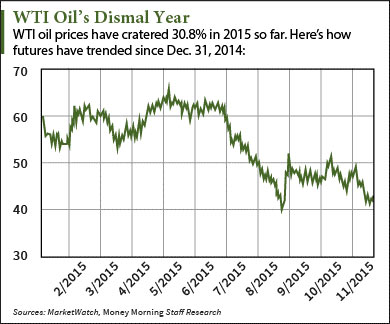 Why oil is up today (Monday, Nov. 23): WTI crude oil prices gained 0.7% this morning following a bullish announcement from Saudi Arabia.
At 10:25 a.m., WTI crude oil prices were trading at $42.18 a barrel. The U.S. benchmark has fallen 11.1% so far in November. It's down more than 30% in 2015.
Brent crude oil prices saw even bigger gains this morning. The global benchmark ticked up 1.3% to $45.22 a barrel today. Brent oil is now down 10.1% this month and 31.6% this year.
The reason why oil is up today is Saudi Arabia's announcement that it's ready to cooperate with both OPEC and non-OPEC members to stabilize oil prices. Investors hope the Saudis will urge the cartel to lower its daily output of 30 million barrels at the Dec. 4 OPEC meeting.
Saudi Arabia's high production is the primary cause of this year's oil price crash. For most of 2015, the OPEC leader has pumped more than 10 million barrels a day in an effort to maintain market share and lower prices for competitors. The strategy has driven export-dependent OPEC members like Venezuela to the brink of economic collapse.
"OPEC members like Venezuela, Nigeria, Libya, Ecuador, and Iran are experiencing significant financial constriction," Money Morning Global Energy Strategist Dr. Kent Moors said earlier this month. "Because the cartel members are all dependent upon oil sales and run undiversified economies, the almost 60% collapse in crude prices hit every one of them hard."
Despite today's announcement, energy agencies are skeptical that Saudi Arabia will keep its word and help improve oil prices. In fact, the U.S. Energy Information Administration (EIA) just lowered its 2016 oil price forecast from $53.57 to $51.31.
But these kinds of bearish oil price forecasts miss the point.
Even if the Saudis continue to pump at record levels, it won't have a huge impact on oil prices.
Here's why Saudi Arabia isn't in the power position it thinks it is…
Alex McGuire is an associate editor for Money Morning who writes about energy. Follow him on Twitter for the biggest oil price updates.
Like us on Facebook: Money Morning