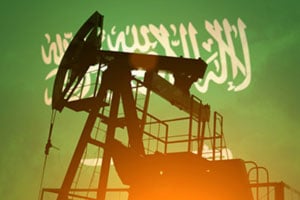 On Monday, Saudi officials announced the country will not reduce oil output. The move to maintain Saudi oil production marks the second time the country chose to protect market share rather than stabilize oil prices.
"The only thing to do now is to let the market do its job," said Saudi Aramco CEO Khalid al-Falih to the Financial Times on Monday. "There have been no conversations here that say we should cut production now that we've seen the pain."
Saudi Arabia's current plan is to pump more than 10 million barrels a day to lower prices and maintain their global market share.
According to Money Morning Global Energy Strategist Dr. Kent Moors, the OPEC leader's increased production plan has backfired. The nation has gone from running a budget surplus to a budget deficit, losing billions in revenue each week.
Standard & Poor's cut Saudi Arabia's credit rating from "AA-" to "A+" last month, which typically means the country now has a higher risk of defaulting.
"Until a higher (and more resilient) pricing floor can be commanded for crude, the Saudi situation will not improve," Moors said.
Saudi Arabia's reluctance to decrease output is putting the country in the same hole as the other cartel members. Small oil-rich OPEC nations like Venezuela need prices at $120 a barrel to sustain their export-driven economies. Right now, oil trades at $46.08 in London.
"OPEC members like Venezuela, Nigeria, Libya, Ecuador, and Iran are experiencing significant financial constriction," Moors explained last week. "Because the cartel members are all dependent upon oil sales and run undiversified economies, the almost 60% collapse in crude prices hit every one of them hard."
Of all the small OPEC members, Venezuela has been hurt the most by high Saudi oil production. The country has lost about $36 billion in export revenue over the last 14 months. That's a 54% decline from its $79 billion average in 2013 and 2014.
Energy agencies are already making doom-and-gloom forecasts for oil prices over the next few years.
But these forecasts miss the point.
Although Saudi oil production will affect OPEC nations and the global energy market, it won't have a big impact on oil prices...