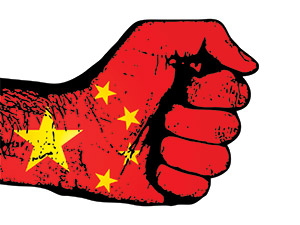 China's yuan is now a global reserve currency.
The International Monetary Fund (IMF) made it official on Monday. A few weeks earlier on Nov. 13, the organization had recommended the yuan, also known as the renminbi, to be included in its $280 billion basket of currency reserves known as Special Drawing Rights (SDR).
Now the Chinese yuan is placed alongside the U.S. dollar, the Japanese yen, the British pound, and the euro, where it will make up 10.92% of the basket.
Of course, the IMF would have us believe it "allowed" the yuan into its basket, as though it was the one in control...
Managing Director Christine Lagarde said the yuan's inclusion was based on "a clear indication of the reforms" China has carried out.
Indeed, the IMF has pushed China toward economic reforms. Earlier this year on Aug. 4, the IMF said China would have to move ahead with market liberalization before it would allow the yuan in.
"The [August IMF] report signals that the decision about the yuan's inclusion in the basket will hinge on financial market development, further opening of the capital account, and greater exchange rate flexibility," Cornell University professor Eswar Prasad told The Wall Street Journal on Aug. 4.
But the truth is the IMF had to include China's currency in its basket - sooner rather than later. The cart's been ahead of the horse for some time on this one...
"China doesn't need the IMF, all it wants is the legitimacy a 'reserve currency' confers on the nation," Money Morning Capital Wave Strategist Shah Gilani said on Monday.
It's actually the other way around - the IMF is the one that needs the yuan. Here's why...