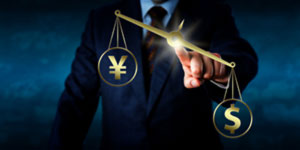 China's yuan was just awarded reserve currency status. This was the precise event former Wall Street banker Evander Smart warned of in September:
"If you live in the West, and this goes down, be afraid, be very afraid," Smart wrote in an op-ed for "future of money" site Coin Telegraph on Sept. 10. "The world is starting to prepare for life without the dollar and westerners should, too!"
On Friday, the International Monetary Fund (IMF) recommended the yuan, also known as the renminbi, to be included in its $280 billion basket of currency reserves known as Special Drawing Rights (SDR). The Chinese yuan-IMF decision places the currency alongside the U.S. dollar, the Japanese yen, the British pound, and the euro.
Inclusion becomes official at the end of the month on Nov. 30, according to French news service AFP.
As an SDR world reserve currency, the Chinese yuan is now legitimized as a serious competitor to the U.S. dollar.
Here's what you need to know…
Chinese Yuan-IMF Decision: Times Are Changing for the Dollar
The U.S. dollar's favored status as a world reserve currency has long churned up demand – as a global benchmark, other countries use the USD for international trade. The effect has propped up the dollar.
But increasingly there's another global currency option for trade – the yuan.
"Times have changed, and the shoe is on the other foot. America – land of perpetual warfare – is swimming in $18 trillion in national debt," Smart wrote. "The U.S. owes almost $3 trillion to just Japan and China alone as it prints about $696 million per day. According to the IMF or the world's loan shark, China has even passed the U.S. as the world's largest economy."
Smart continues, "Over the last several years, many countries, especially in East Asia, have stopped using the U.S. dollar for trading purposes. These are called 'bilateral trade agreements,' and they're becoming as popular as cat videos on YouTube."
He notes that more and more, countries are instead opting for the Chinese yuan…