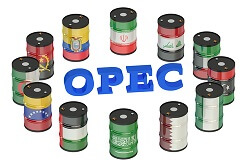 Will OPEC cut oil production?
That's the biggest question on energy investors' minds ahead of the cartel's meeting this week. On Dec. 4, oil ministers from OPEC's 12 nations will congregate in Vienna to discuss the state of the oil market moving into 2016. Heads will be turned toward Saudi Arabia, which has led the cartel's policy of overproduction to maintain market share even as oil prices hover near $40 a barrel.
The Organization of the Petroleum Exporting Countries has historically been stubborn toward lowering output. At the last meeting on June 5, the cartel said it would maintain its collective production of 30 million barrels a day. The announcement was the second time since November 2014 the cartel aimed to lower global prices to edge out competitors rather than stabilize the market.
Now OPEC is desperate, as this year's 30.5% crash in oil prices hurts many oil-rich cartel members.
"OPEC members like Venezuela, Nigeria, Libya, Ecuador, and Iran are experiencing significant financial constriction," Money Morning Global Energy Strategist Dr. Kent Moors explained last month. "Because the cartel members are all dependent upon oil sales and run undiversified economies, the collapse in crude prices hit every one of them hard."
Venezuela's economy is struggling the most from Saudi Arabia's high-volume initiative. From September 2014 to November 2015, the country lost roughly $36 billion in oil export revenue. Back in August, Venezuelan oil officials contacted Mohammed al-Sada - Qatar's oil minister and president of the OPEC conference - to figure out a way to both stabilize prices and protect market share.
But other large OPEC members like Saudi Arabia and Kuwait are mainly concerned with Russia's cooperation. The Saudis have tried to establish healthy relations with the non-OPEC member for years. That's because they want a piece of Russia's massive oil reserves and geographic dominance. After all, adding Russia to the OPEC roster would increase the cartel's global market share by 33%.
The Saudis have repeatedly said lowering production would be pointless if Russia refuses to establish a rapport. If Saudi Arabia keeps it up, the OPEC countries on the verge of economic collapse might start fighting back.
"A transition of the crisis to the political realm would mark the beginning of a Latin American parallel to the Arab Spring," Moors explained.
With all of this dissension among OPEC's ranks, people are wondering if OPEC will cut oil production at the Dec. 4 summit.
Here's the one factor OPEC's decision hinges on...
Will OPEC Cut Production by 2016?
It all depends on Saudi Arabia.
Since market share is its only concern, oil prices as low as $40 won't pressure officials to cut production. The cartel used to make up 60% of the global oil market. Now, thanks to the growing U.S. fracking industry, OPEC controls only 40%.
You see, Saudi Arabia is OPEC's largest producer. According to YCharts, the country's daily output rose from 10.29 million barrels in July to 10.34 million in August. That's one-third of the entire cartel's daily production.
OPEC members are trying to convince Saudi Arabia to take the lead and cut its own production. Venezuela already pleaded with the Saudis to no avail. According to MarketWatch, Iran, which is set to boost production as sanctions are lifted from the nuclear agreement, has also pressured Saudi Arabia to decrease output.
[mmpazkzone name="in-story" network="9794" site="307044" id="137008" type="4"]
But Saudi officials have stressed they won't give in to supply demands until U.S. producers cut their output.
"Not even at $20 - they will not budge alone," said Richard Hastings, macro strategist at Global Hunter Securities, in September. "They are waiting for U.S. production to decline much further."
Stay tuned to Money Morning as we cover the 168th OPEC meeting this Friday, Dec. 4. Follow the author on Twitter (@AlexMcGuire92) and like us on Facebook.
Did Saudi Arabia Just Shoot Itself in the Foot? Low oil prices mean less revenue for OPEC's wealthiest nation - and even though Saudi Arabia has hundreds of billions in the bank, two new developments will chip away at those savings faster than ever...
Related Articles: