OPEC Meeting 2015: Oil officials from all 12 OPEC countries met at the Vienna headquarters today (Friday), and it's already having a huge impact on prices.
As expected, the meeting fueled bitterness among OPEC members.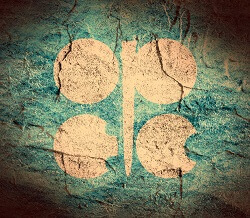 OPEC officials told Reuters the cartel decided to raise its output ceiling from 30 million barrels per day to 31.5 million. Many analysts had expected the cartel to maintain production. So the call to increase production came as a surprise and immediately sent the WTI crude oil price down 2.7% to $39.98.
The cartel's Secretary General Abdullah al-Badri said most of the meeting's discord stemmed from Iran, which remains unpredictable as it readies to flood the market with more oil once Western sanctions are lifted. Iranian officials said they wouldn't consider cutting output until its export operations are fully restored.
The call to boost production leaves poorer OPEC members in a bind. A group of countries led by Venezuela had tried to push for a 5% production cut in hopes of boosting oil prices. After all, Venezuela has lost about $36 billion in oil export revenue between September 2014 and November 2015 as prices crashed. Its economy can only survive when prices are near $100 a barrel.
"OPEC members like Venezuela, Nigeria, Libya, Ecuador, and Iran are experiencing significant financial constriction," Money Morning Global Energy Strategist Dr. Kent Moors said on Nov. 5. "Because the cartel members are all dependent upon oil sales and run undiversified economies, the collapse in crude prices hit every one of them hard."
Leading the overproduction policy at the center of the 2015 OPEC meeting is Saudi Arabia. The cartel leader has almost singlehandedly kept prices near $40 by pumping more than 10 million barrels a day. Its output makes up about a third of OPEC's total production.
Even though OPEC's overall production will increase, it won't have a negative impact on oil prices long term.
In fact, there's one fundamental reason why prices will actually move higher in 2016...