This time last year, Marina and I were in Dubai. This year we are about 80 miles further west, in Abu Dhabi.
Like Dubai, Abu Dhabi is one of seven emirates comprising the United Arab Emirates (UAE). Founded in 1971 once the British relinquished control, the UAE is the second-largest Persian Gulf economy (after Saudi Arabia).
And while Dubai has morphed into a global financial and real estate center, Abu Dhabi remains based on a more traditional source for its immense wealth: Oil.
Which sets the stage for why Marina and I are here in Abu Dhabi. Yes, we do have a wedding anniversary in a few days and that has always been a nice excuse for an exotic trip.
But this time around there is also another reason for traveling here and doing that now.
Tomorrow, events in Abu Dhabi point to OPEC having a brand-new ally in the oil sector – one no one would expect.
Abu Dhabi Is the Real Power in the UAE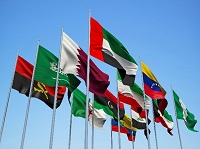 We left on a flight from Miami late on Tuesday to visit Abu Dhabi, the city ruled by Khalifa bin Zayed bin Sultan Al Nahyan (often referred to as simply Sheikh Khalifa).
After over 16 hours, we arrived late last evening local time. After ensconcing ourselves on the Executive Club level of the Etihad Towers, we promptly crashed.
This morning, the wall-to-ceiling windows of our 57th-floor residence provide a panoramic view of the two primary forces driving this Persian Gulf dynamo.
In one direction down the coastline is the Sheikh Zayed Grand Mosque, one of the world's great religious landmarks. It can house over 40,000 worshippers at the same time and is the devotional center of the country. In the other direction lies the skyscrapers of a modern city spreading out on the shores of the Persian Gulf, displaying the wealth of this city.
And there is a considerable amount of wealth here. The Abu Dhabi Investment and Development Authority is by estimated capitalization the largest sovereign wealth fund in the world.
Then there are the events of a few years ago.
As a consequence of the worldwide credit meltdown, Dubai became overextended and needed an immediate influx of financing to remain solvent. Sheikh Khalifa bailed them out.
Lest there be any doubt, the emir of Abu Dhabi and UAE's head of state gave a clear statement as to where the real financial clout lay…
The Persian Gulf Is Still Centered on Oil
The UAE, and Abu Dhabi in particular, occupies a pivotal position both in the economic development of the entire region and the policy dominating OPEC. Along with Saudi Arabia and Kuwait, the UAE remains a principal driver of the cartel's market strategy.
That strategy has reversed decades of maintaining oil prices in times of global oversupply by cutting production. Instead, a year ago OPEC spiraled prices downward by first keeping oil production constant and then increasing exports in the face of an oversaturated market. The defense has been one of protecting the organization's market share. [Editor's Note: Click here for Kent's newly released oil forecast.]
But that has come at an accelerating cost…
Join the conversation. Click here to jump to comments…
About the Author
Dr. Kent Moors is an internationally recognized expert in oil and natural gas policy, risk assessment, and emerging market economic development. He serves as an advisor to many U.S. governors and foreign governments. Kent details his latest global travels in his free Oil & Energy Investor e-letter. He makes specific investment recommendations in his newsletter, the Energy Advantage. For more active investors, he issues shorter-term trades in his Energy Inner Circle.