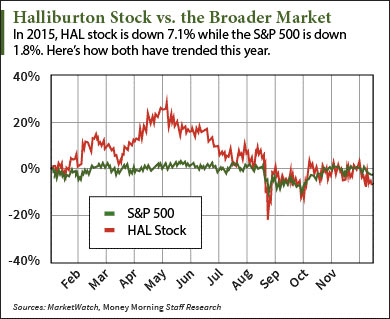 Halliburton Co. (NYSE: HAL) is facing hurdle after hurdle in its attempt to complete one of the biggest mergers in the history of the oil sector. But completing its acquisition of Baker Hughes Inc. (NYSE: BHI) would be a huge catalyst for the Halliburton stock price in 2016.
In 2014, Halliburton snatched up Baker Hughes for $34.6 billion. The deal combines the second- and third-largest oil field services (OFS) companies in the world. If the government approves the deal, the new firm will provide strong competition against the OFS leader – Schlumberger Ltd. (NYSE: SLB).
But the U.S. Department of Justice (DOJ) has repeatedly scrutinized the deal for possibly violating antitrust laws and obstructing fair business competition.
Halliburton has agreed to sell parts of its business to lessen the blow of the merger's monopolistic size. Last April, the company proposed selling all of its drill bit assets for up to $2 billion. The firm announced in September it would sell a second group of assets that includes equipment for building wells and controlling oil flow.
The DOJ was expected to decide by today (Tuesday, Dec. 15) whether or not to finalize the deal. However, the agency could postpone its decision to later this week.
"Everything about this deal has turned out to be more complicated and, frankly, more challenging than what was initially envisioned," said William Herbert, co-head of energy investment firm Simmons & Co. International, to The Wall Street Journal.
The Halliburton stock price has fallen due to the yearlong plunge in oil prices. Although it's up 2.7% to $37.53 a share today, HAL stock is still down 7.1% in 2015. Meanwhile, the Baker Hughes stock price is down 16.6% this year.
Despite the antitrust hurdles, the Halliburton stock price could offer a solid investment opportunity in 2016 for one important reason…