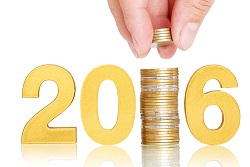 Facebook Stock Price Prediction 2016: Facebook stock reached record highs in 2015, and the bullish sentiment will continue into next year…
The Facebook stock price is up 35.17% in 2015, and it closed yesterday (Thursday) at $106.22. That's 177.83% higher than its May 2012 IPO price of $38.
Facebook stock is up in 2015 for four reasons. And those four reasons will contribute to the 2016 Facebook stock price climb as well…
Bullish Facebook Stock Price Prediction Reason No. 1
Wall Street places a great deal of importance on growth in monthly active users (MAUs) for social media stocks.
In Q3 2015, Facebook Inc. (Nasdaq: FB) reported 1.55 billion MAUs. That's a 14% increase from Q3 2014. Even though daily active user totals aren't judged as heavily, Facebook still beat Wall Street's expectations of 992 million daily active users for Q3 2015 with 1.01 billion.
And Facebook could still experience significant user growth from here, thanks to how it's catching on in this key emerging economy…
According to state provider DMR, Facebook only had an 8.2% penetration in India as of October. The U.S. Census Bureau and World Bank estimated that India had a population of 1.25 billion in 2013, but India Today reported India only had 112 million Facebook users as of December 2014.
And with 65% of the population under the age of 35, there are still hundreds of millions of new users to obtain.
But there's a different country with an even bigger opportunity for Facebook…
China has placed a ban on Facebook, but CEO Mark Zuckerberg is making progress on reaching China's 1.35 billion residents. In 2014, Facebook quietly leased a space in downtown Beijing, according to Bloomberg Business.
Along with the new office space, Facebook has an office in Hong Kong, where it sells ads to companies wanting to reach international users.
Facebook may be reaching maturation in the United States, but there are billions of potential users who have yet to sign up in foreign countries.
While MAU growth will play a big role in Facebook increasing profits through its flagship network, it's not the only factor that will boost revenue…
Bullish Facebook Stock Price Prediction Reason No. 2
In 2012, Facebook purchased Instagram for $1 billion in Facebook stock and cash.
The billion-dollar price tag for Instagram seemed excessive at the time, considering it only had 30 million users. And Wall Street pundits were especially baffled since Instagram did not make any money.
But Zuckerberg knew what he was doing
Instagram had 30 million users when Zuckerberg first purchased it, but in September 2015, Instagram announced it had 400 million MAUs. That's 80 million more MAUs than Twitter Inc. (NYSE: TWTR) reported in Q3 2015.
The mobile picture app is also expected to earn close to $600 million in ad revenue this year. Research firm eMarketer projects Instagram will earn $2.81 billion in global mobile ad revenue annually by 2017. That means that ad revenue from Instagram could account for more than 10% of Facebook's total 2017 ad revenue, according to eMarketer.
But aside from being a new source of revenue, Instagram serves a vital role in Zuckerberg's portfolio…
You see, there's an assumption that younger users are leaving Facebook. According to Piper Jaffray, those assumptions are true.
In 2013, 33% of teens in a research study from Jaffray stated that Facebook was the most important social network to them. Just two years later, only 14% of teens felt that way about Facebook. But Instagram received 32% of teens' votes in 2015, which was the largest amount for any social media site.
Combined, 46% of teens preferred either Instagram or Facebook over rivals like Twitter and Snapchat.
So when FB shareholders hear that Facebook is losing younger users, remember that they are now just using Instagram, which Facebook also owns. There's one more big reason why we are so bullish in our Facebook stock price prediction for 2016…
Bullish Facebook Stock Price Prediction Reason No. 3
This area is so promising for Facebook that Money Morning Defense & Tech Specialist Michael A. Robinson called Facebook a "mobile goldmine."
And mobile advertising revenue is only going to increase for Facebook in 2016 and beyond…
Not only will Facebook see increased mobile advertising revenue from its flagship network and Instagram, but Facebook has two platforms Zuckerberg hasn't even started to monetize yet.
In 2014, Zuckerberg purchased messaging service WhatsApp for $19 billion, according to Bloomberg. Zuckerberg has grown the service from 450 million users to 900 million. Business Insider projects it could earn $3 billion in revenue by 2020.
Facebook also has an in-house messaging service it has yet to monetize. As of July 2015, Facebook's Messenger had 700 million users, according to TechCrunch.
So now the big question is: When will Facebook monetize Messenger and WhatsApp? Zuckerberg provided a general answer in a Q2 2015 earnings call.
Zuckerberg stated that in 2006 and 2007, he faced a lot of pressure to place banner ads on Facebook's organic content. But Zuckerberg felt that ads and monetization would be most effective over the long term if natural interactions between businesses and people using their products took place.
Mobile ad revenue will continue to drive Facebook's total revenue sales in 2016, and mobile ad revenue will drastically grow when Zuckerberg decides to monetize WhatsApp and Messenger.
But our fourth bullish Facebook stock price prediction is our biggest…