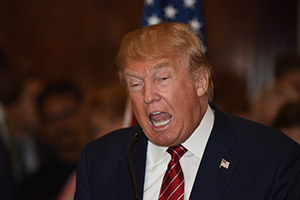 Election 2016 News: Trump Heaps Criticism on Clinton - The first Election 2016 presidential primary in Iowa is on Feb. 1 - just a little over a month away. With strong national polling numbers, Republican presidential front-runner Donald Trump is confident of his lead within his own party. Increasingly, Trump has been targeting Democratic front-runner Hillary Clinton now as he positions himself for the Republican nomination.
Trump's most recent attack on Clinton was at a rally in Grand Rapids, Mich. He had some harsh words for the former secretary of state, and even got quite personal. Trump criticized Clinton for taking too long to return to her podium during a commercial break in last Saturday's Democratic debate.
"I know where she went," Trump said at the Michigan rally. "It's disgusting, I don't want to talk about it."
Clinton was supposedly using the women's restroom, which was far away from the debate stage, according to The Guardian.
Trump also said at the rally that Clinton was "schlonged" in the 2008 Democratic primary by current U.S. President Barack Obama. Schlong is Yiddish slang for a man's genitals.
Trump's main criticism of Clinton is that, according to him, she lacks the "strength" and "stamina" to be president. He repeats this criticism frequently at his rallies and in his tweets.
At a Dec. 4 rally in Raleigh, N.C., Trump had this to say about Clinton: "Do you ever notice she does an event, she wakes up? She does an event. Puts on her pantsuit. She walks in. ... No, it's true. She walks in, does event, and you don't see her for four days, five days. You know why? She goes back home and she goes to sleep. This is not what we need as a president. We need tremendous energy..."

In Other Election 2016 News...