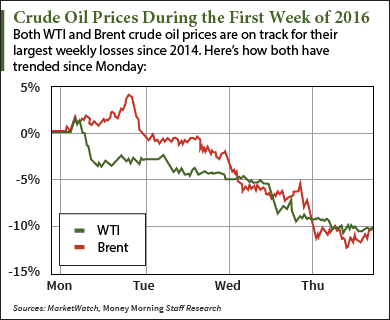 Crude oil prices today (Thursday) fell below $33 for the first time since 2003 as China's stock market crash continues to drive investors out of the energy sector.
At 9 a.m., West Texas Intermediate (WTI) crude oil prices fell 2.9% and were trading at $32.99 a barrel. The U.S. benchmark has logged losses every day of 2016 and is down 12.4% so far this week.
Brent crude oil prices also hovered near their lowest point in more than 10 years this morning. The global benchmark dropped 2.7% to $33.71 a barrel. It's currently down 10.5% in 2016.
And it's all thanks to China…
Why China Is Dragging Down Crude Oil Prices Today
Both Brent and WTI crude oil prices are in free fall today after China's stock market cratered and suffered its shortest trading day ever.
Trading on the country's Shanghai Composite Index was stopped immediately after the index crashed 5% at the open. After a 15-minute break, stocks reopened and dropped another 2%. Markets closed for the rest of the day after racking up a 7% loss just thirty minutes after the opening bell.
As the second-largest oil consumer in the world behind the United States, China's market turmoil has rattled investors concerned about the country's slowing oil demand. The volatility has put WTI crude oil prices on track for their largest weekly loss in more than a year, despite a 5.1 million barrel decrease in U.S. supply last week.
But there's another international event currently shaking up oil prices. And according to Money Morning Global Energy Strategist Dr. Kent Moors, this violent conflict is led by one factor certain to cause a massive interruption to the global oil trade and send prices into a deeper period of volatility…
Alex McGuire is an associate editor for Money Morning who writes about energy. Follow him on Twitter for all of the biggest oil, gas, and solar updates.
Like us on Facebook: Money Morning