Buying into a gold ETF is one of our top recommendations for 2016, as Money Morning experts remain extremely bullish on gold prices.
Gold prices today (Wednesday) were up a modest $2.90, or 0.27%, at $1,090.40 in mid-morning trading. But the price of gold this week is still down from the two-month high of $1,113.10 an ounce it hit last week.
Geopolitical tensions, reports of North Korea testing a hydrogen bomb, and a drop in global stocks pushed gold prices higher last week. Just four days into 2016, gold prices were up more than 3%.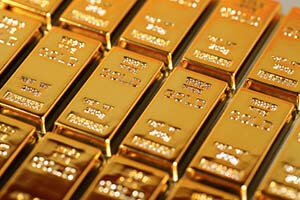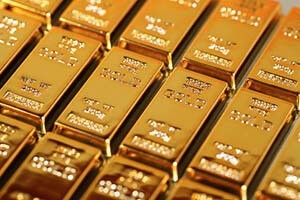 Gold ended 2015 down 10.4% for its third straight annual loss. The precious metal finished last year just slightly above its near-six-year low of $1,045.85 an ounce hit in early December.
And that has made today's gold price attractive to bargain hunters and those concerned about stocks. Gold prices have been trading in a cyclical bear market since 2011. But that trend appears to be reversing…
UBS technical analysts Michael Riesner and Marc Muller told clients in a research note last week that they should take a serious look at gold as global stocks continue to drop.
"In 2016, we expect gold and gold mines moving into an eight-year cycle bottom as the basis for the next multiyear bull market. Initially, we see gold profiting as a safe haven and as of 2017, gold could profit from the U.S. dollar moving in a major top and starting a bear market," the analysts wrote.
Money Morning Resource Investing Specialist Peter Krauth has been sharing a similar bullish position on gold prices for months.
Yesterday, Krauth said all the "bad news on the markets is terrific news for gold – and everyone holding it."
Panic is starting to seep in as all three major U.S. indexes spiral towards a "classic" 10% correction. Millions of investors are looking for the exits and a reliable safe haven, Krauth explains. And simmering Middle East tensions and mounting uncertainty over Chinese markets mean millions more are sure to follow.
Krauth sees gold prices approaching the $1,200 level this year as a bull market in the precious metal finally resumes.
As prices rise, Money Morning has picked the best gold ETF for investors to own in 2016…
The Best Gold ETF to Buy When Prices Rebound
The purest way to own gold is with physical gold, such coins and bars. But for some people, holding physical gold is impractical.
One of the best ways to get exposure to gold prices is through exchange-traded funds (ETFs). The SPDR Gold Trust (NYSE Arca: GLD) is one of the best gold ETFs to buy when prices rebound.
GLD offers investors an innovative, relatively cost-efficient, and secure way to access the gold market.
Originally listed on the New York Stock Exchange in November 2004 and traded on NYSE Arca since Dec. 13, 2007, GLD is the largest physically backed gold ETF in the world.
The gold ETF was launched to provide investors with a way of participating in the gold bullion market without having to take physical delivery of gold. The gold ETF also allows investors to buy and sell the metal through the trading of a security on a regulated stock exchange.
GLD holds some 651.69 tons of the yellow metal valued at close to $23 billion.
The GLD ETF rose 1.8% over the first five trading days of 2016 as the price of gold climbed.
Year to date, GLD is up 2.86%. In comparison, the Dow, S&P 500, and Nasdaq are down 5.9%, 6.72%, and 7.6%, respectively.
Stay informed on what's going on in the markets by following us on Twitter @moneymorning or liking us on Facebook.
The Markets Will Crash Again: The cracks are already showing. But the impending collapse is also an opportunity. By understanding these five "Super Crash" inevitabilities and making key adjustments, investors can protect their portfolios from the downside while positioning for the upside. This is your last chance to act before it's too late…