Netflix Inc. (Nasdaq: NFLX) smashed quarterly earnings after the bell yesterday (Tuesday), but the Netflix stock price is down 10% today.
And that Netflix stock price drop reinforces the NFLX investing strategy we've been showing readers for months.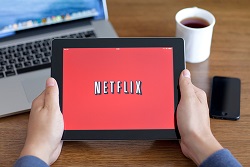 But first, here's what the Netflix earnings report revealed…
The video streaming giant posted Q4 2015 adjusted earnings per share (EPS) of $0.07 on revenue of $1.83 billion. Analysts were looking for EPS of $0.02 on $1.83 billion in revenue.
While EPS beat estimates, that figure was down 30% from the previous year. Revenue was up 22.8% from the previous year.
While EPS and revenue are important metrics, the key focus in Netflix's earnings report was subscriber growth.
Netflix added 5.59 million total net subscribers in Q4, up from 4.33 million additions in the previous year. The company had 4.04 million net subscriber additions outside of the United States. That topped expectations for 3.51 million. It was also better than the 2.43 million it added in the prior-year period.
And that international user growth is expected to continue…
Earlier this month, Netflix said it had expanded its service to more than 190 countries. By 2017, the company plans to be in 200 countries.
The international push coincides with increased spending on original programming. Netflix attributed the drop in EPS year over year to that increased spending.
For the current quarter, Netflix expects to add 4.35 million new international members and 6.1 million net additions.
But investors appear worried about Netflix's slowing domestic growth. Netflix expects 1.75 million net U.S. subscribers in Q1 2016, versus 2.28 million a year ago. Analysts polled by FactSet had been predicting net additions of 2.07 million. That is the biggest reason why the Netflix stock price is dropping today.
But new international growth should offset slowing stateside growth. And a flurry of new content should keep and attract new subscribers globally.
This week, Netflix released 2016 premiere dates for its hits "Orange Is the New Black," "House of Cards," "Unbreakable Kimmy Schmidt," and other series.
Those blockbuster hits helped the Netflix stock price close 2015 with a 134% yearly gain. It was the best-performing stock on the broad-based S&P 500 Index, which ended the year down 0.73%.
Despite the huge 2015 gain, today's Netflix stock price drop shows just how volatile the stock can be. That's why we turned to Money Morning Defense & Tech Specialist Michael A. Robinson for the best strategy for investing in Netflix stock in 2016…
After the Netflix Stock Price Drop, Should I Buy Now?
The Netflix stock price is notoriously volatile after earnings reports.
Over the past 21 quarters, Netflix has trumped earnings expectations all but once. The stock's reaction, however, hasn't been consistent. In that same time, shares have moved up or down at least 10% on more than half of those occasions.
That was the case after Q4 2015 results were released Tuesday.
The Netflix stock price surged as much as 10% to $116.20 Tuesday in after-hours trading before giving back those gains. Shares dipped about 2.54% to $105.06 Wednesday morning amid a global stock market rout that caused a sea of red worldwide.
That's why we don't recommend buying Netflix stock for the short term. The stock is just too volatile for short-term retail investors. And the volatility of the broader markets will only make it even more volatile this quarter.
Still, if you can hang in and go through any volatility, you can profit from Netflix stock long term, according to Robinson.
Robinson says Netflix is on its way to becoming the preeminent provider of content throughout the world.
"Right now, they are going through an Amazon.com Inc. (Nasdaq: AMZN) style growth period. It's the Bezos model – build, build, build – then the profits will follow," Robinson said after Netflix's Q3 2015 earnings report.
Netflix is the dominant online player in the media space and it continues to increase its presence. New content and original series, meanwhile, keep subscribers hooked. The company is making money and profits are rising.
With today's losses, the Netflix stock price is now up 96.5% in the last 12 months.
Stay informed on what's going on in the markets by following us on Twitter @moneymorning or liking us on Facebook.
The Gold Mining Revolution: Technological advancements in gold mining have been stagnant, but one tiny Canadian company is about to change that. Its special extraction method will slash production costs and send gold prices soaring. In fact, this nano cap could disrupt the entire industry…
Related Articles: