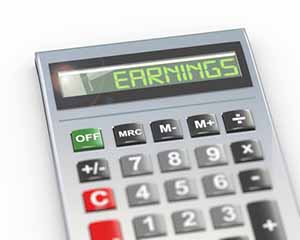 5 P.M. UPDATE: Q4 Facebook earnings beat expectations today (Wednesday), and the Facebook stock price is up 2.42% in after-hours trading.
Facebook reported earnings per share (EPS) of $0.79 on $5.84 billion in revenue. Analysts expected Facebook to report $0.68 on $5.36 billion in revenue. Revenue in Q4 increased 51.68% from the same time a year ago.
The company also beat expectations in monthly active users (MAUs), reporting 1.59 billion instead of the expected 1.58 billion. Facebook now has 1.04 billion daily active users, up from 1.01 billion reported last quarter.
Facebook reported that 80% of its ad revenue now comes from mobile devices. That's a 2% increase from last quarter and a 15.94% increase from the same time a year ago.
Previous story follows:
Facebook earnings for Q4 2015 will be announced after the bell today (Wednesday), and analysts expect Facebook Inc. (Nasdaq: FB) to post earnings per share (EPS) of $0.68 on revenue of $5.36 billion.
After opening this morning at $97.72 per share, the Facebook stock price has now fallen 7.13% in 2016. But it is still up 157% since its IPO price of $38 in May 2012.
Facebook has a track record of exceeding earnings expectations. In 12 out of its last 13 quarterly earning reports, Facebook has outperformed analysts' EPS expectations. After the last Facebook earnings report, FB stock climbed 4.67% the following day.
In Q3, Facebook beat analysts' revenue projections of $4.3 billion by reporting $4.5 billion in revenue. Facebook also beat EPS projections of $0.47 by reporting EPS of $0.50.
The social media juggernaut also reported strong growth in monthly active users (MAUs) in Q3 with 1.55 billion, a 14% increase from the previous year.
Despite those bullish numbers, Facebook stock has still faced selling pressure in 2016…
Now shareholders are concerned that FB stock could drop even further if Facebook earnings miss estimates.
But before diving into the Facebook earnings report, it's important Money Morning readers know why the FB stock price is dropping at the start of 2016….
Facebook stock's drop has been part of a market-wide sell-off. Because of volatile oil prices and the slowing of the Chinese economy (the second-largest economy in the world), investors' attitudes are ranging from cautious to panicked.
The Dow Jones is already down 8.51% this month, and the Nasdaq has performed even worse, falling 10.42%.
So, the Facebook stock price isn't falling because of poor performance or scandals. It's just reacting to how investors are playing the whole market. The stock may continue lower along with the market sell-off, but fundamentally, Facebook is still a strong company.
In fact, these numbers from the Q4 2015 Facebook earnings report should prove exactly that…
What to Look for in Facebook Earnings for Q4 2015 Today
Just like in Q3, Facebook will be judged on its MAU growth. Growth in MAUs shows that Facebook is increasing its audience, and that is huge for advertising revenue.
You see, advertisers want to reach as many people as possible. The more Facebook can grow its audience size, the more money companies are willing to pay to reach those audiences.
Shareholders will also need to pay attention to growth in daily active users (DAUs). In Q3, Facebook reported 1.01 billion DAUs, which exceeded expectations of 992 million.
And when you're looking at user growth, the results from Instagram are also important. In September, Instagram reported that it had 400 million MAUs, which is 80 million more than Twitter Inc. (NYSE: TWTR) reported in its Q3 2015 earnings report.
Because of the growing audience, analysts at Credit Suisse project that the picture app will bring in $730 million in revenue for Q4, according to Fortune. Credit Suisse also projects that Instagram will be a "$5.3 billion business" by 2017.
That's more than impressive considering Instagram did not earn any revenue before the start of 2015.
Outside of user and revenue growth from the company's flagship site and Instagram, Facebook is expected to provide guidance on its virtual reality headset, Oculus Rift.
CEO Mark Zuckerberg acquired Oculus VR in March 2014 for $2 billion. But Facebook just started accepting pre-orders for the $599 headset in January 2016.
Some analysts questioned how a virtual reality headset would increase profits for a social media site, but Zuckerberg was looking at the bigger picture. By 2018, research firm CCS Insight projects that the augmented and virtual reality device market will be worth $4 billion, double what Zuckerberg paid for Oculus VR.
And as part of that bigger picture, the Facebook CEO has plans to extended Oculus' applications beyond games, which will add even more revenue.
"After games, we're going to make Oculus a platform for many other experiences," Zuckerberg stated. "Imagine enjoying a courtside seat at a game, studying in a classroom of students and teachers all over the world, or consulting with a doctor face-to-face – just by putting on goggles in your home."
Although the overall market is volatile, Facebook remains a fundamentally strong company. If you are a long-term investor looking to hold a stock for the next five to 10 years, Facebook is an excellent choice.
The Bottom Line: Facebook earnings are expected to show strong growth in total users and revenue. Instagram and Oculus Rift updates will be two other major areas for investors to watch. FB stock has been beaten down by the broader market sell-off, but this is still a fundamentally strong company.
Jack Delaney is an associate editor for Money Morning. You can follow him on Twitter and follow Money Morning on Facebook.
Protect Your Money in This Bear Market: It's true that you would have to be a fortune teller to know exactly when a bear market would start and end. But fortune telling isn't Chief Investment Strategist Keith Fitz-Gerald's profession. His goal is to protect your wealth, maximize gains, and help you focus on what's really going on in the market. In his Money Map Report, this financial guru has used his years of experience as a trader in one of Wall Street's leading firms to help his readers find 86 double- and triple-digit winners. You can learn more about Keith's Money Map Report here…