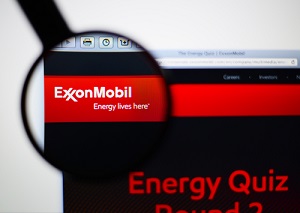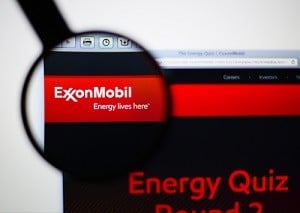 The Exxon earnings report was released before the opening bell today (Tuesday), and the oil giant beat top- and bottom-line expectations. Exxon Mobil Corp. (NYSE: XOM) posted earnings per share (EPS) of $0.67 on revenue of $59.8 billion. Thomson Reuters analysts expected EPS of $0.63 on $51.4 billion in revenue.
However, Exxon earnings fell from $1.32 per share and $87.3 billion during the fourth quarter of 2014. That had the stock falling 2.4% in morning trading.
The main factor behind the year-over-year decline is last year's crash in oil prices. WTI oil's 37.4% decline in 2015 marked the first time in 17 years the U.S. benchmark posted a second straight annual loss. It caused the Exxon stock price to fall 15.7% and lose more than $21.8 billion in market cap in December alone.
During low oil price periods, downstream operations like refining activity are usually the most profitable area of an earnings report. That's because high oil prices make it more expensive for refineries to churn out enough products like gasoline to meet consistently high demand.
Exxon's downstream profit was the only bright spot of the report. It came in at $1.4 billion, up 63.9% from $854 million in Q4 2014. The boost comes after the company doubled its Q3 refining profit from a year earlier to $2 billion.
Although the Exxon stock price is down 1.9% to $74.81 after the report, we recommend holding Exxon stock if you already have it in your portfolio. That's because it boasts one quality that can make you money no matter where the price goes in 2016…
One Reason to Hold Exxon Stock After Exxon Earnings Today
We advise against selling shares of Exxon stock for one simple reason – Exxon Mobil offers one of the most generous dividends on the market. And its strong dividend comes from its rare S&P AAA credit rating.
You see, an AAA credit rating shows a company has a reliable credit history and enough financial resources to support a big dividend policy. After the 2008 recession, a number of huge American companies like General Electric Co. (NYSE: GE) lost their cherished AAA status. Today, Johnson & Johnson (NYSE: JNJ), Microsoft Corp. (Nasdaq: MSFT), and Exxon are the only U.S. companies with the cherished rating.
With a 3.8% yield – the highest of all three companies – Exxon has proven itself to be one of the best dividend stocks on the market.
Not to mention it's also on the esteemed "dividend aristocrat" list. These are S&P 500 stocks that have increased their dividend payouts for at least 25 consecutive years.
Exxon has delivered a constant stream of quarterly payouts since starting its dividend policy in 1983. The dividend grew 5.8% from $0.69 per share to $0.73 over the course of 2015, making it one of the highest-paying oil stocks of the year.
The Bottom Line: Although it beat expectations, the Exxon earnings report today marked the fifth consecutive quarterly decline for the world's largest oil company. Until oil prices stabilize, Exxon stock should not be treated as a lucrative investment opportunity. If you already own shares of XOM stock, we advise against selling them after today's earnings. The company's competitive dividend and rare AAA status make it a strong passive income investment.
Alex McGuire is an associate editor for Money Morning who writes about energy. Follow him on Twitter for all of the biggest oil and gas updates.
Like us on Facebook: Money Morning
You Can Still Make Money from Oil Volatility Right Now… Most investors are afraid to search for a profitable oil stock now that prices are hovering near a 12-year low of $32 a barrel. After all, the 2016 oil market has been marred by doom-and-gloom forecasts lately. But there's one oil stock investing strategy that can lead to substantial profits while prices begin their long-term rebound…