The price of crude oil struggled to stay above the $30 mark today (Tuesday) as Big Oil firms report weak earnings and hopes of a production cut from OPEC fade.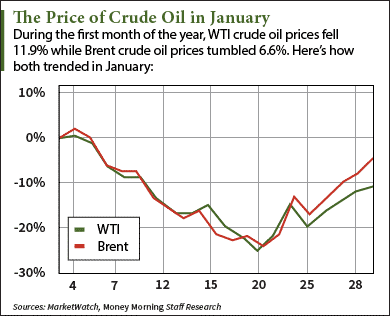 At 11:55 a.m., the West Texas Intermediate (WTI) crude oil price was down 4.1% and trading at $30.33 a barrel. The U.S. benchmark is coming off an 11.9% decline in January. That marked its third monthly loss in a row. Futures for March delivery are now down 20.5% in 2016.
On the other hand, the Brent crude oil price was slightly less volatile this morning. The global benchmark fell 3.7% to $33.09 a barrel. It dropped 6.6% in January and is now down 14.1% so far this year.
Here's why Big Oil and OPEC are dragging the price of crude oil lower today...
Two Reasons Why the Price of Crude Oil Is Falling Toward $30 Today
The slide in oil prices today comes after two oil giants reported lackluster fourth-quarter earnings.
Both BP Plc. (NYSE ADR: BP) and Exxon Mobil Corp. (NYSE: XOM) posted a sharp decline in Q4 profits. BP's profit saw a dramatic 91.1% plunge from $2.2 billion to $196 million year over year. Meanwhile, Exxon's profit fell 57.6% to $2.8 billion in the fourth quarter - the lowest level since 2002.
The massive earnings declines shocked investors who hoped two of the largest oil companies in the world were sturdy enough to withstand the low price environment.
Today's decline in the price of crude oil is also caused by a lack of progress between OPEC and non-OPEC countries to curb global production. Two OPEC delegates said the cartel has yet to schedule a sit-down with Russia and other major producers outside the cartel to discuss supporting oil prices.
That's because there's too much internal conflict among the cartel's most influential members...
[mmpazkzone name="in-story" network="9794" site="307044" id="137008" type="4"]
In fact, one of the delegates said today there's no point in hosting a summit until every OPEC member agrees on a common strategy.
"Some of them, OPEC member-countries, are not sure what we are going to do in this meeting with non-OPEC," the delegate told Reuters. "If the meeting takes place without results, we'll have a big problem with the market, the price will go down."
Most of the opposition stems from Iran, which will begin exporting oil due to the recent removal of its economic sanctions...
On Jan. 16, the International Atomic Energy Agency (IAEA) confirmed Iran complied with the terms of the nuclear deal struck last July by reducing its nuclear research program. Some of the terms included reducing its uranium stockpile and allowing IAEA spot inspections of Iranian nuclear sites.
In exchange for scaling back nuclear activity, the UN will lift sanctions that target Iran's defense, shipping, and most importantly, oil industries. The OPEC country will begin exporting up to 500,000 barrels of oil a day to the already oversupplied market.
Iran's newfound freedom to export as much oil as it wants comes at the worst possible time for the oil sector. After all, the price of crude oil is already down more than 20% this year without Iran's supply trading on the global market.
But investors shouldn't avoid the energy sector in 2016. That's because there's money to be made outside of the oil sector...
How to Profit from the Energy Sector in 2016
According to Money Morning Global Energy Strategist Dr. Kent Moors, you can still profit regardless of where the price of crude oil moves.
This is because oil is becoming less influential on the energy market as a whole, which opens up plenty of investment opportunities in other burgeoning energy sectors.
"The broader energy space certainly keeps an eye on the movement of the price of oil," Moors said last month. "But increasingly that is no longer where the real action is."
As you'll see, Moors outlines five energy "bright spots" offering significant potential for investors looking to make money from the changing energy landscape. In fact, one of them is projected to grow into a $75 billion market by the end of 2016...
Alex McGuire is an associate editor for Money Morning who writes about energy. Follow him on Twitter for all the biggest oil and gas updates.
Like us on Facebook: Money Morning
Related Articles: