It's another terrible day for the GoPro stock price, as it's down more than 11% in intraday trading to an all-time low of $9.01.
The stock is falling after GoPro Inc. (Nasdaq: GPRO) reported a hefty loss in Q4 and low guidance for the rest of 2016.
And while those factors are sending the GoPro stock price lower today, there's an even bigger factor that will continue to pressure GPRO stock.
But first, here's a closer look at the terrible earnings figures...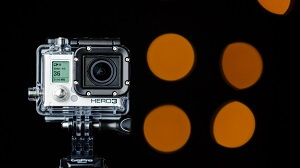 After Wednesday's close, the action camera maker reported an earnings per share (EPS) loss of $0.08 and sales of $436.7 million for the vital holiday quarter. Analysts were looking for EPS of $0.02 on revenue of $434.9 million.
The company's guidance for Q1 2016 revenue was also lighter than expected. GoPro projects revenue of $160 million to $180 million versus the $287.2 million expected.
This is not the first time GoPro has lowered guidance figures. Last month, GoPro provided Q4 guidance that was below expectations. The company cited slower than expected sales and a lack of product launches. It also announced plans to lay off 1,500 employees, or 7% of its workforce.
While analysts were braced for a dismal earnings report, Q4 numbers were lower than even the bleakest projections.
GoPro had hoped the launch of its new Hero4 Session model would be a big seller in Q4 and boost the GPRO stock price. But the Hero4 turned out to be one of GoPro's biggest problems. Reception to the new compact camera was lukewarm at best. Several analysts expressed concerns about the potential for GoPro's cameras to gain broad appeal beyond its core group of extreme-sports enthusiasts.
Still, the Hero4 was expected to be a hot seller during the holidays. But projections for the Hero4 cooled ahead of the crucial shopping season, and GoPro trimmed its guidance. Sales have been soft since the ice-cube sized camera debuted in July.
Amid slow sales, GoPro cut the Hero4 price twice. GoPro trimmed the price by 25% in late September. In December, the company slashed the price again. The Hero4 now sells at half of its debut price of $400.
The GoPro stock price, meanwhile, has now fallen 85% in the last six months.
Shares shed another 14% Thursday to a new low of $9.01. That's a long way from its October 2014 all-time high of $93.85.
Chief Executive and co-founder Nicholas Woodman promises this year will be different. GoPro's ambitious 2016 plans include:
GoPro will stop selling three of its cheapest cameras in April.
The GoPro Hero5 will debut later this year. The focus is "connected and convenient."
New GoPro desktop software will be available in March and is expected to make sharing easier.
GoPro's drone and virtual reality camera rig will be available by summer.
And because the GoPro stock price is so "cheap" now, many investors think this turnaround plan could provide major profits in 2016. But according to Money Morning experts, the way to play GoPro stock in 2016 is a no-brainer...
Keep Avoiding the Falling GoPro Stock Price in 2016
We've been bearish on the GoPro stock price since it peaked in October 2014, and now some Wall Street firms are finally coming around.
Dougherty Markets was among several Wall Street firms downgrading GoPro stock following the glum Q4 earnings and guidance. The firm downgraded GoPro to "Neutral." Dougherty said it was prepared for a bad GoPro forecast, but what we got was worse than feared.
 Particularly troubling is GoPro's staggering spending.
The firm estimates GoPro will spend over half of its 2016 revenue on operating expenses. GoPro management believes they can spend their way out of this malaise and revive the brand and products. But Dougherty is skeptical since this is a new and unproven strategy for GoPro, and they can't find another example of a consumer electronics company this size that successfully deployed this approach.
This is part of what Money Morning experts have been saying about GoPro stock for months.
GoPro was one of the most highly anticipated and successful initial public offerings of 2014.
Priced at $24 a share, the GoPro stock price surged 31% when it debuted on June 25, 2014. By July 2014, the GoPro stock price was up 100% from its IPO price.
At its all-time October 2014 high, Money Morning Chief Investment Strategist Keith Fitz-Gerald told investors to ignore the hype.
By August 2015, the GoPro stock price had slipped to $60.
"GoPro makes some really cool products, and they've got a rabid fan base of people who film themselves and others doing some truly outrageous things," Fitz-Gerald said last month. "But that doesn't mean they've got sustained profit potential. The company has engaged in deep, deep discounting this holiday season, and that's going to eat into margins."
And according to Fitz-Gerald, there is no reason to buy GoPro stock even though it's discounted...
"I'm always willing to pay up for a company that's 'best in class' or that has a defensible technology. GoPro has neither," he continued. "I won't hesitate to line up for a stock that's got control over its margins and, by implication, the pricing power to go with it. GoPro doesn't."
 Stay informed on what's going on in the markets by following us on Twitter @moneymorning or liking us on Facebook.
The Gold Mining Revolution: Technological advancements in gold mining have been stagnant, but one tiny Canadian company is about to change that. Its special extraction method will slash production costs and send gold prices soaring. In fact, this nano cap could disrupt the entire industry...
Related Articles: