Alphabet Inc. (Nasdaq: GOOGL) just passed Apple Inc. (Nasdaq: AAPL) to become the world's most valuable company. Executives reported earnings of $8.67 per share on revenue of $21.32 billion, surpassing analyst expectations for both revenue and profits.
That's great… considering the best is yet to come.
Analysts are having trouble with something Google calls "other bets" and the fact that those investments cost the company a whopping $3.5 billion in losses.
A lot of individual investors, meanwhile, find it hard to imagine GOOGL stock going too much higher, let alone a lot higher.
Both groups are missing something really critical that we talk about all the time.
Something that's worth at least 50% to the upside.
And that's your entry.
When $3 Billion in the Red Is a Good Thing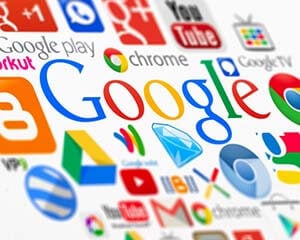 As you know, I've made the case for several years now that the real value when it comes to Google/Alphabet is in the company's component businesses. The stuff they call "other bets."
What's an "other bet?"
In a nutshell it's stuff like high-speed Internet and net-smart home devices, self-driving cars, and even robotics. And it doesn't appear to be profitable.
According to the company, "other bets" generated under $500 million in sales last year but cost the company more than $3.5 billion in losses.
Naturally, the analysts are shaking their heads because that's "not the way you want to do things," but I beg to differ.
Most of the never before released "other bet" numbers are related to two key areas called Fiber and Verily. The former is Google's high-speed Internet service while the latter is Google's life sciences division.
It's natural and, more importantly, expected that the company is going to spend a lot of money putting in fiber to handle high-speed data requirements in major urban areas. And it's totally normal to expect that the company has to dump a ton of money into life sciences to really make a difference.
The question, as always, is not how much these kinds of breakthrough investments cost to get off the ground, but how much they're going to generate when customers begin using them a few years from now.
The track record is fabulous when you think about it.
For example, Gmail just passed 1 billion users last quarter and is the seventh Google service to hit that milestone. Google, Chrome, Search, YouTube, and Gmail ALL have over 1 billion active users. Google's self-driving cars have now driven 1.3 million miles in two prototype cities.
Those are all services that would have been classified as "other bets" when the company started. Now they generate $21.2 billion a year. Smart bets like these have helped quarterly earnings growth hit 45.30% year over year.
What hasn't dawned on folks is that the "other bets" they're poo-hooing are growing revenue faster than Google's more established "bets."
Case in point, "other bets" revenue jumped 37% year over year in contrast to a 23.2% growth in Google's overall operating income.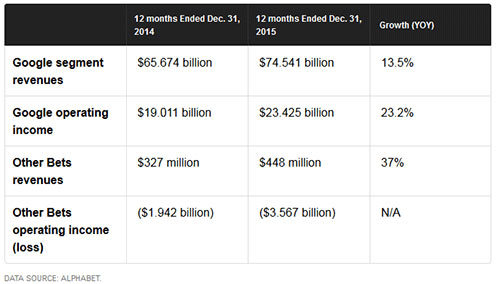 Remember, Google made the move to Alphabet specifically to provide transparency into its other operations. The fact that analysts don't understand what the company is telling them is their problem… and your opportunity.
Down the road, there are plenty of "other bets" that are going to get spun off. And if you own shares now, that'll be to your advantage because you'll get shares in the new ventures as they grow.
Google's fiber, for example, could wind up competing as a standalone with Comcast's high-speed networks. Google's self-driving car could wind up competing with Tesla or licensed to Toyota. Their artificial intelligence (AI) could become a standalone data network.
My point is that this is a "one decision = many benefits stock," meaning you've only got to decide to understand it once, then buy it.
Some people gripe that at $780 a share, it's too expensive. Yet, there's no reason you can't buy a couple of shares at a time and tuck them away for a rainy day.
I think they're worth at least $1,000 – perhaps $2,000 when the "other bets" begin to pay off.
Incidentally, people had the same doubts about a tiny company called Berkshire Hathaway in 1980 when it debuted at $290 a share – which, according to the CPI inflation calculator, would be the equivalent of paying $834 per share in 2016. Tuesday it closed at $189,902 a share.
You can count the number of tech companies growing with this kind of pedigree on one hand and still have fingers left over.
This is not a company that's going to chicken out if the going gets tough.
Besides, Alphabet could split at any time and that will create another rush of liquidity by allowing a fresh round of investment that boosts your shares still further.
It's not too late to snap up a few shares.
Follow Money Morning on Facebook and Twitter.
Editor's Note: Google stock could keep up its tear throughout 2016, but Keith has uncovered a small-cap company he believes will grow exponentially as it conquers a $1.135 billion human augmentation revolution. For a full and free report on the "Unstoppable Trend" that could power this company to 2,000% gains, sign up for Total Wealth here – it's free!
Join the conversation. Click here to jump to comments…
About the Author
Keith is a seasoned market analyst and professional trader with more than 37 years of global experience. He is one of very few experts to correctly see both the dot.bomb crisis and the ongoing financial crisis coming ahead of time - and one of even fewer to help millions of investors around the world successfully navigate them both. Forbes hailed him as a "Market Visionary." He is a regular on FOX Business News and Yahoo! Finance, and his observations have been featured in Bloomberg, The Wall Street Journal, WIRED, and MarketWatch. Keith previously led The Money Map Report, Money Map's flagship newsletter, as Chief Investment Strategist, from 20007 to 2020. Keith holds a BS in management and finance from Skidmore College and an MS in international finance (with a focus on Japanese business science) from Chaminade University. He regularly travels the world in search of investment opportunities others don't yet see or understand.