The silver price is up more than 2% in early trading today (Monday) to $15.33, continuing a 2016 rally for the precious metal.
The silver price is now up nearly 10% since the end of January.
Silver prices were aided in the past week by a surprise move from the Bank of Japan, which instituted negative interest rates. Statements about dollar strength by the New York Fed's president last week also boosted the silver price.
All of this has combined to make for one of the strongest weeks in quite a while for silver prices.  Let's look more closely at how it got there and what other factors are driving it.
Why the Silver Price Today Is Higher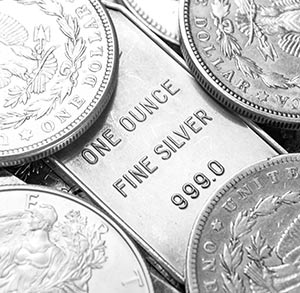 February began with silver priced around $14.30. With only slight volatility through the day, it closed slightly higher at $14.33. The Bank of Japan announcement that seems to have pushed gold quickly higher didn't have the same effect on the silver price.
On Feb. 3, silver prices popped along with gold, as both reacted very positively to a weaker dollar. This was the day that New York Fed President Bill Dudley said financial conditions had tightened since the Fed's December rate hike, and that continued strength in the dollar could hurt the U.S. economy.
On this news, the price of silver quickly jumped from $14.40 to $14.80 by 2:00 p.m. It then retreated to settle at $14.67 to close the day.
Now, these are the factors that will have the biggest impact on the silver price moving forward…
What Will Move the Silver Price Now
The U.S. Mint reported silver coin sales were much higher in January. American Eagle silver coins sold at a strong pace, with 5,954,500 coins delivered, which was the highest in two years and a gain of 7.68% from last year.
And in China, it seems the appetite for silver at these low prices has become irresistible. Silver imports into the country have recently reached a four-year high. No doubt, as the Chinese are seeing continuing weakness in their currency, the yuan, they're looking for a haven to help protect their purchasing power.
Since September, the yuan has lost over 5% against the U.S. dollar, and the Chinese stock and property markets have been pummeled. That has driven many Chinese to look for an alternative store of value, and they're finding it in silver.
An interesting development has seriously brought into question the effectiveness of the LBMA silver price. On Thursday, Jan. 28, the LMBA set its price for silver at $0.84 below the spot and futures price that morning. 
Keep in mind that the LBMA silver price is crucial as it's used as a benchmark for producers and traders worldwide to settle contracts.
The difference from spot at $14.42 casts major doubt on the LMBA price, which took 14 minutes to fix a price, at a level that was far from the market price. This is likely to cause major problems for the huge number of market participants who rely on the LMBA silver price.
And lastly, on a technical basis, silver has continued to perform nicely.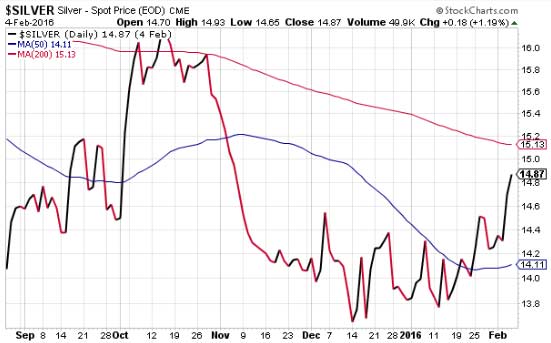 As you can see from the green curved line I've drawn in, silver has exhibited a cup formation.  This is a part of a bullish pattern that, if followed through, could result in a pullback then a new surge higher, called a "cup and handle."
We'll need more time to see if this plays out in more or less of a textbook pattern. If it does, then there may be an interesting buying opportunity ahead for silver investors.
The Essential Guide to Buying Gold and Silver:

Precious metal investing is widely regarded as the best "crisis insurance" for your portfolio. This guide gives you everything you need to know about the best stores of value in history, gold and silver.
Read more…
Join the conversation. Click here to jump to comments…
About the Author
Peter Krauth is the Resource Specialist for Money Map Press and has contributed some of the most popular and highly regarded investing articles on Money Morning. Peter is headquartered in resource-rich Canada, but he travels around the world to dig up the very best profit opportunity, whether it's in gold, silver, oil, coal, or even potash.