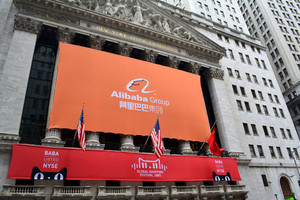 Yes, the Alibaba Group Holding Ltd. (NYSE: BABA) stock price is still down 16.6% year to date, but the company has just received a new $4 billion catalyst that should drive BABA stock higher in 2016.
Before we get to the catalyst, here's why the BABA stock price has been so volatile in 2016...
Shares of the Chinese e-commerce goliath have dropped this year during the sharp global stock market sell-off. That sell-off was mostly due to worries of a slowdown in China.
In January, China reported 2015's GDP was 6.9%. That was the lowest rate in a quarter century. And it has also had a major impact on the Chinese stock market.
The Shanghai Composite Index plunged 6.4% to 2,741.25 yesterday alone. It was the worst percentage drop for China's key benchmark since Jan. 26. And now the index is down 47% since last summer's peak.
Since Alibaba is a Chinese company, investors have panicked throughout 2016 that the slowing Chinese economy will have a major impact on Alibaba's business. In the last 12 months, that panic has led to a drop of 21% for the BABA stock price.
But most investors are missing the point. Alibaba may be a Chinese company, but it is growing into a global brand.
And the new $4 billion catalyst we just found will drive Alibaba stock in 2016 and for years to come. It's one of the reasons Money Morning experts think Alibaba is one of the best long-term stocks to buy now...
BABA Stock's New $4 Billion Catalyst
Alibaba is reportedly in talks with a number of banks to borrow up to $4 billion. The money will be used for expansion plans, including acquisitions. The sizable loan is expected to be finalized in the next month.
The news isn't exactly a surprise to Money Morning readers...
Alibaba has actively been taking stakes and buying companies around the globe, which we've been closely following. The company has also been venturing into areas outside of retail, such as online video and local services, as volume growth in its core online shopping business matures.
Last week, Alibaba bought 33 million shares of daily deals site Groupon Inc. (Nasdaq: GRPN). The purchase gives Alibaba a 5.6% stake in Groupon, as well as a vast reach in the growing online commerce marketplace that connects merchants to consumers.
In November, Alibaba announced it would make online video provider Youku Tudou a wholly owned unit. In June, Alibaba and its financial-services affiliate said they would collectively invest approximately $1 billion in food-ordering app Koubei to develop its offering and services within the dining arena.
Also last summer, Alibaba spent close to $4.5 billion for a nearly 29% stake on Chinese electronic retailer Suning Commerce Group Ltd. The move was aimed at improving its logistics by teaming up with a key bricks-and-mortar retail chain.
All of these moves show Alibaba's commitment to becoming a global brand. And even though the company is branching out, its home market will remain a major catalyst for the stock for years to come...
Why We're Bullish on Alibaba Stock Long Term
Through its subsidiaries, BABA operates as an online and mobile commerce company in its home base of China and internationally.
Technology is vastly changing shopping habits in China, the world's second-largest economy. Alibaba is leading the charge with its online payment platform Alipay.
A decade ago only 7 million people in China had a credit card and almost all transactions were made via cash. Last year, 358 million Chinese, or roughly half the country's Internet users, used mobile devices to shop and make payments. That was a 24% year-over-year increase.
Analysts estimate Chinese consumers used their mobile devices to send payments and transfers totaling $2.5 trillion last year, double the amount the year before.
The Alibaba stock price is now trading below its September 2014 IPO price of $68. But there are a number of reasons to believe the selling has gone too far.
For example, Chinese Internet users spent billions of dollars in a day last year in the world's biggest online annual shopping bonanza. "Singles Day" hit new heights despite slowing growth in the country's economy.
During the 24-hour sale on Nov. 15, Alibaba broke its own record with more than $1.5 billion worth of goods sold within the first 12 minutes after midnight. By around 10 p.m., shoppers had shelled out almost $13 billion.
Thirty-two analysts rate Alibaba a "Buy." Three have an "Overweight" rating on the stock and four maintain it a "Hold." Just one analyst rates Alibaba stock "Underweight." None rate shares a "Sell," according to data from The Wall Street Journal.
Stay informed on what's going on in the markets by following us on Twitter @moneymorning or liking us on Facebook.
The Essential Guide to Buying Gold and Silver: Precious metal investing is widely regarded as the best "crisis insurance" for your portfolio. This guide gives you everything you need to know about the best stores of value in history, gold and silver. Read more...
Related Articles: