It's time to look at what's moving silver prices today and this upcoming week.
The silver spot price today is up $0.19 to $14.86. This is great to see after the past week as silver gave up a little ground. Though it hasn't been a major retreat, the price of silver is off about 2% as the investment attention has been focused on gold.
With stocks and oil bouncing from their recent retreat, and the U.S. dollar doing so as well, they've weighed on silver. Still, silver is ahead about 8.5% year to date, nearly a 13% outperformance of the S&P 500, which has lost just over 4%.
Let's look at how the silver price has behaved over the past week and what drivers lie ahead.
What Moved the Silver Spot Price
After ending the previous trading week around $15.30, the silver spot price backed off at the start of last week. Silver opened in NY trading on Monday, Feb. 22, at $15.05 and climbed to close at $15.15 – below its previous week's close.
On Tuesday, silver opened at $15.18 and moved slowly higher to close at $15.26. But on Wednesday, the precious metal opened around $15.30 and then retreated to close at $15.21.
On Thursday spot silver dropped to test the $15.00 level, then bounced back a bit to close at $15.10.
However, Friday saw further weakness. The silver spot price opened at $15.10, then dropped to $14.70 by 11 a.m., only to close the trading week at $14.67.
Despite dropping below the psychologically important $15.00 level and breaching the 200-day moving average, silver has managed to stay above its 50-day moving average.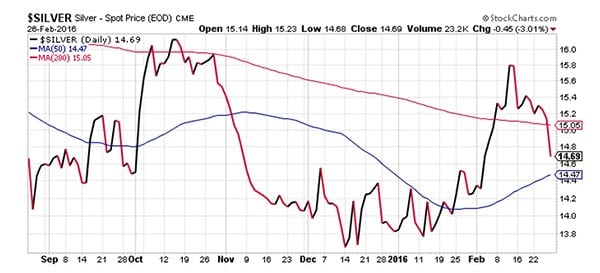 Now there's a new significant level to watch in silver trading.
That's the 50-day moving average at $14.47. Should the silver spot price breach that level, then it could easily head lower still. If instead silver holds up at that level, then it could become new support.
Interestingly, the bearish head and shoulders pattern I told you about last week, which I said could bring silver to test the 50-day, came to pass.
Meanwhile, the U.S. dollar has certainly been a headwind for silver.
Looking at a five-day chart, we can see the DXY has regained a bit of strength, with an extra push that came on Friday, Feb. 26. That almost certainly weighed on silver and helped push it below $15.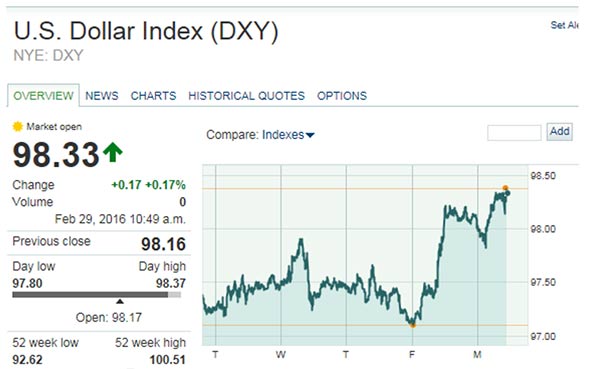 Nonetheless like gold, silver has been acting like a safe-haven asset recently, for the most part zigging when stocks are zagging.
Here's a three-month chart pitting silver against stocks: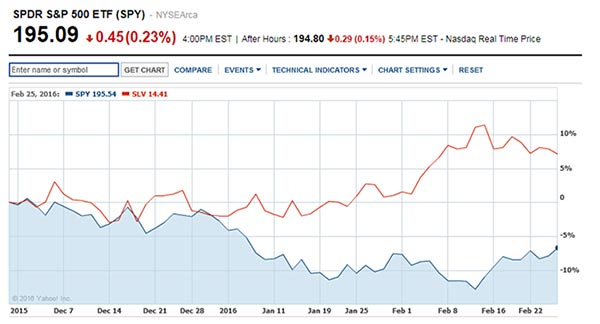 Now let's look at market developments that should help us better determine what silver's future direction might look like.
What's Moving Silver Prices Going Forward
I've discussed physical demand for bars and coins before, and here is some further market info on this topic to add color to the macro view of silver.
Australia's Perth Mint (one of the world's largest) has followed in the path of both the U.S. Mint and the Royal Canadian Mint. In January, the Perth Mint said its silver sales had soared 151.5% for the same period year over year, selling 1.47 million silver ounces.
In Q4 last year the Royal Canadian Mint sold 75.9% more silver, reaching 9.5 million ounces for the period year over year.
And these sales numbers have come on low prices. In other words, buyers are snapping up what they see as bargains. What we need to consider as well is what's likely to happen in a silver mania.
As prices rose to approach $50 per ounce in a parabolic rise in April 2011, traders chased silver prices higher. I'm confident that the behavior of buyers will be no different in the next silver price surge.
Don't forget either that these extended low prices have seriously dented production. From January to November, U.S. silver mine output was off by about 8%, and Canadian output is sharply down 22%.
The effects of robust demand combined with shrinking supply promise to result in a much higher silver price.
Stay informed on what's going on with the price of silver today and all days by following us on Twitter @moneymorning or liking us on Facebook.
The Essential Guide to Buying Gold and Silver: Precious metal investing is widely regarded as the best "crisis insurance" for your portfolio. This guide gives you everything you need to know about the best stores of value in history, gold and silver. Read more…
Join the conversation. Click here to jump to comments…
About the Author
Peter Krauth is the Resource Specialist for Money Map Press and has contributed some of the most popular and highly regarded investing articles on Money Morning. Peter is headquartered in resource-rich Canada, but he travels around the world to dig up the very best profit opportunity, whether it's in gold, silver, oil, coal, or even potash.