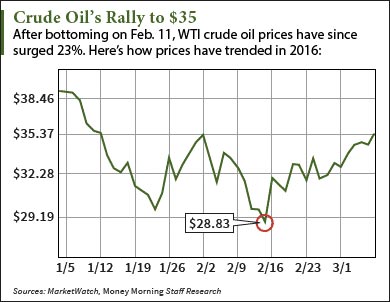 The price of crude oil today (Friday) just hit its highest level in over a month - thanks to some bullish comments from the International Energy Agency (IEA).
At 11:15 a.m., the West Texas Intermediate (WTI) crude oil price gained 2.5% to trade at $35.43 a barrel. This marks the first time since Jan. 29 that the U.S. benchmark broke above $35. Futures for April delivery are now up 5% just this week alone.
The Brent crude oil price also leaped higher this morning. The global benchmark - priced in London - ticked up 2.4% to $37.96.
Here's exactly what the IEA said that boosted the price of crude oil today...
What Pushed the Price of Crude Oil Today Above $35
Both Brent and WTI crude oil prices have been on the rise this week after a senior analyst from the IEA said prices will rebound in 2016 and 2017.
For its long-term forecast, the agency expects oil prices to reach the $80 range by 2020.
"Oil prices appear to have bottomed out," said Neil Atkinson, the new head of the agency's oil market division, at a seminar in Oslo, Norway. "Prices are expected to grow throughout 2016 and into 2017, reflecting expectations that the market is going back into balance in 2017."
One of the reasons oil prices will rebound is steadily increasing demand.
According to the U.S. Energy Information Administration (EIA), global consumption will reach 96.5 million barrels a day in 2017. That's a 2.9% increase from 93.8 million last year.
But that's not the only reason why the price of crude oil will rally over the long term.
In fact, this chart shows another trend that will send prices toward $70 a barrel by Jan. 1, 2017...
The Huge Trend Making the Price of Crude Oil Rise in 2016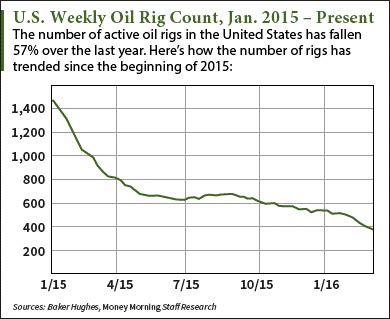 Since January 2015, the U.S. oil rig count has fallen a staggering 72% from 1,421 to 392.
According to Baker Hughes Inc. (NYSE: BHI), which tallies the number of North American rigs each week, last week's count is the lowest of the decade.
Money Morning Global Energy Strategist Dr. Kent Moors - an oil industry veteran whose career as an energy advisor to U.S. and Russian governments stretches over four decades - says the rig count will continue to fall as most U.S. wells near the end of their output cycles.
That's because a typical shale oil well churns out most of its volume within the first year and a half. Since the crash in oil prices started about 18 months ago, U.S. wells are now starting to see a steep drop-off in output.
"The U.S. rig count has declined precipitously... that can't help but lead to a drop in supply, especially when it comes to shale or tight oil," Moors explained last year. "It's called the decline curve and can't be finessed forever."
The declining rig count and increasing global demand will more than double the price of crude oil by this summer.
"By July 1, 2016, WTI should be at $66 and Brent at $70," Moors forecast on Dec. 9. "By the beginning of the fourth quarter, WTI at $68, Brent at $72."
Alex McGuire is an associate editor for Money Morning who writes about oil prices. Follow him on Twitter for the biggest updates on the price of crude oil today.
Like us on Facebook: Money Morning
Why Oil and Stocks Have Been Dancing in Lockstep: Throughout crude's lengthy decline, stocks tended to mirror any movement in oil, especially to the downside. Common sense suggests some signals would affect both, but lately, they've instead been moving in almost lockstep connection. It seems common sense isn't in charge of the markets any more...