Digi-Capital projects the augmented reality (AR)/virtual reality (VR) market will bring in revenue of $150 billion by 2020, and we've found the three best stocks to buy in this emerging industry.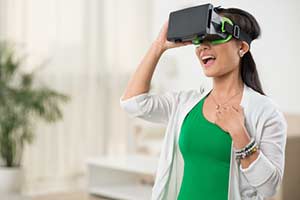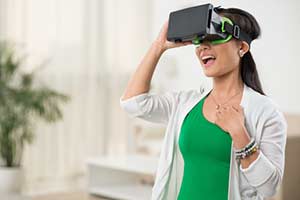 VR is still in its infancy, but there are companies building an early foothold in the emerging market, and three of them make our list of best stocks to buy now. That means investors have the opportunity to get in at the ground floor of a $150 billion market...
Right now, Wall Street is focusing mainly on how VR headsets will generate revenue. But VR headsets are only part of the $150 billion market.
In fact, Money Morning Defense & Tech Specialist Michael A. Robinson highlighted the incredible applications of virtual reality all the way back in 2012.
Jintronix, a therapy-focused game company, uses VR in rehabilitate therapies. The technology helps patients that are suffering from motor disabilities, and Robinson states that VR could be a godsend to stroke victims who need to rehabilitate from their homes.
Styku is another company that is creating waves within the VR industry. Styku focuses on body measurements, and the technology can let people "try on" clothes virtually before they are bought. Retail stores and individual consumers alike are able to benefit.
So the applications for virtual reality impact numerous industries...
Robinson called this the "Era of Radical Change." According to the research firm Statista, the number of virtual reality users worldwide will hit 171 million by 2018. That's an increase of more than 3,000% in just three years.
And one of the companies Robinson originally recommended in 2012 is leading this massive change. It was trading at $31.28 and has since climbed 65%. And that's just one of the three stocks to buy now we're recommending today.
And if you missed it the first time, there are still plenty of gains to be made. These are our three best stocks to buy now in the emerging AR and VR marketplace...
Best Stocks to Buy Now No. 3: Alphabet Inc. (Nasdaq: GOOGL, GOOG)
Alphabet Inc. (Nasdaq: GOOGL, GOOG) is focusing almost exclusively on virtual reality content and has an entire webpage dedicated to developers who want to create new virtual reality experiences.
Right now, users can purchase games to play on VR headsets, but that's the end of the transaction. Alphabet is working to change that. Re/code reported on March 7 that Alphabet is working with developers to enable in-app purchases on its VR headset.
According to The Wall Street Journal, in-game purchases on mobile devices in 2015 were expected to total $23.4 billion across the globe. While there are no examples of in-app purchases for VR headsets right now, the demand for the headsets is an indication that the profitability from the mobile device market will carry over. Oculus Rift was reportedly sold out just 14 minutes after it was available for pre-order on Jan. 6.
While users still don't have a way to place purchases through VR headsets, Alphabet is showing the foresight needed to make Google Cardboard stand out against the competition. Google Cardboard is a simple cardboard device, but don't let that fool you on the incredible content it can share.
Alphabet's willingness to work with developers in this emerging industry makes Alphabet one of the best stocks to buy right now.
GOOG is up 22.77% in the last 12 months, and GOOGL is up 24.66%.
Best Stocks to Buy Now No. 2: Microsoft Corp. (Nasdaq: MSFT)
Just like Alphabet, Microsoft Corp. (Nasdaq: MSFT) is working with software developers to help build content for its VR headset, HoloLens.
Starting on March 30, headsets will start shipping to developers who applied to receive the HoloLens Development Edition. Microsoft hasn't confirmed a price, but Forbes reported that it will cost "significantly more" than an Xbox, which has a $400 price point.
And Microsoft already has an advantage in two key areas: Skype and video games.
According to the WSJ, HoloLens users calling through Skype will be able to project images that they see to the person they are calling. One use could be in the real estate industry. Instead of going on a tour of a house in person, HoloLens users could talk with an agent while viewing the house from the agent's perspective.
And that's just one application...
Microsoft also has a strong foothold in the gaming industry through its Xbox platform. Right now, playing games is the mainstream use for VR platforms. And instead of having to solely rely on outside developers for new content, Microsoft already has knowledge of the demand and popularity of games on the Xbox 360 and Xbox One.
Microsoft is also making its gaming content available on other devices. According to Tech Times, Microsoft's popular "Minecraft" game will be compatible with Oculus Rift. Paranormal Activity VR, based off of the popular movie franchise, will be released in May 2016.
MSFT is up 21.33% in the last six months, and the unlimited possibilities from Skype and the company's strong presence in video games makes Microsoft one of the best stocks to buy now.
Best Stocks to Buy Now No. 1: Facebook Inc. (Nasdaq: FB)
Pundits scoffed at Facebook Inc. (Nasdaq: FB) CEO Mark Zuckerberg when he paid $2 billion for Oculus VR in 2014. They just couldn't see how a virtual reality platform would help a social media company.
Of course, purchasing Oculus was just one example of Zuckerberg's forward thinking...
The Facebook stock price is now up 180% since its 2012 IPO price of $38 per share. And our Director of Tech and Venture Capital Research believes it could climb another 133% by 2020. Watch the video to learn more...
On Feb. 21, Facebook announced that it was forming a "Social VR" team. The goal of this team is to build technology that would create new experiences for Facebook users, according to Forbes.While Facebook does have its own VR headset, Oculus Rift, Zuckerberg will work with other headset producers, including Samsung.
Now, you may be wondering how a social media site is going to profit off of virtual reality. That's a great question, and here's the answer: Facebook will make money through selling ad space on VR platforms.
Companies like Coca-Cola Co. (NYSE: KO) have already shown that they are willing to pay to advertise within VR and AR platforms. For instance, Coca-Cola paid to sponsor a virtual reality experience at the World Cup in 2014 where users could visit a locker room and play on a soccer field.
Advertising within VR is a completely new concept, but if anyone can do it, it's Zuckerberg.
Facebook has already proven that it knows how to generate revenue from its services, hauling in $17.93 billion in 2015. That's a 44% increase year over year.
While much of the VR focus right now is on gaming, Zuckerberg has bigger plans for Oculus...
"After games, we're going to make Oculus a platform for many other experiences," Zuckerberg stated in a Facebook post. "Imagine enjoying a courtside seat at a game, studying in a classroom of students and teachers all over the world, or consulting with a doctor face-to-face - just by putting on goggles in your home."
Facebook stock is up 1.55% on the year and could continue to climb as the company begins monetizing its virtual reality applications.
The Bottom Line: The augmented/virtual reality market is expected to generate $150 billion in revenue by 2020. And because Alphabet, Microsoft, and Facebook are focusing on building content, they are the three best stocks to buy now in the industry.
Jack Delaney is an associate editor for Money Morning. You can follow him on Twitter and follow Money Morning on Facebook. 
Protect Your Money in This Bear Market: It's true that you would have to be a fortune teller to know exactly when a bear market would start and end. But fortune telling isn't Chief Investment Strategist Keith Fitz-Gerald's profession. His goal is to protect your wealth, maximize gains, and help you focus on what's really going on in the market. In his Money Map Report, this financial guru has used his years of experience as a trader in one of Wall Street's leading firms to help his readers find 86 double- and triple-digit winners. You can learn more about Keith's Money Map Report here...