Valeant stock is crashing today (Tuesday) after Valeant Pharmaceuticals International Inc. (NYSE: VRX) reported Q4 2015 earnings before the opening bell.
To put it bluntly, the results were bad, and the outlook for 2016 is even worse.
The results were so bad, in fact, that the Valeant stock price was down 17.87% in pre-market trading. Shortly after market open, the Valeant stock price dropped to a 52-week low of $44.50. That's a drop of 83.1% from the 52-week high of $263.81 VRX hit in August.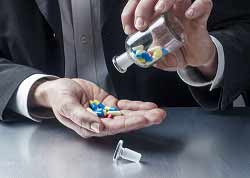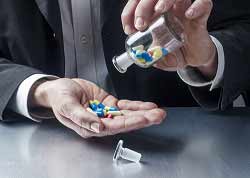 This may allure some investors to buy VRX at a "discount." But before we get to whether you should buy Valeant stock after earnings today, I want to make sure Money Morning readers know the results from Valeant's Q4 2015 earnings report and why VRX is plummeting…
Valeant reported adjusted earnings per share (EPS) of $2.50 on $2.79 billion in revenue. Analysts had expected Valeant to report $2.61 on $2.75 billion in revenue.
But what is really moving the Valeant stock price today is the company's projections for 2016. For the full year, Valeant expects revenue of $11 billion to $11.2 billion. Valeant had previously estimated it would earn $12.5 billion to $12.7 billion.
And this decline in revenue is all due to the company's questionable business practices…
On Oct. 21, Citron Research released a report titled "Could This Be the Pharmaceutical Enron?" Citron alleged that Valeant was engaging in sham transactions with pharmacy Philidor Rx to inflate drug sale numbers.
VRX opened at $148 on Oct. 21 and closed at $109.87 on Oct. 22. That's a 25% loss in two days.
But things got even murkier when Valeant's relationship with a company called R&O Pharmacy was exposed…
In its scathing review, Citron also noted that R&O Pharmacy filed a claim in September 2015 that Valeant was making an improper payment demand from R&O for $69 million. Citron alleged that Philidor owned R&O, and that Valeant was creating clones of Philidor to create phantom sales and trick auditors.
Valeant has since cut ties with Philidor and recently settled out of court with R&O Pharmacy. But the damage was already done for the Valeant stock price, which has fallen 59% in the last three months.
But is this discounted price a buying opportunity? Here's what investors need to know about the VRX stock price moving forward…
Can the Valeant Stock Price Recover in 2016?
Back on Oct. 15, 2015, Money Morning Global Credit Strategist Michael Lewitt warned investors about Valeant Pharmaceuticals.
Lewitt stated that Valeant:
Has a risky and predatory business model
Is on the radar of politicians, which is trouble for shareholders
Had $30 billion of debt on just $9 billion in revenue
Because of those issues, Lewitt called Valeant the poster child for putting profits before principle. And that philosophy is the company's biggest flaw.
You see, Valeant's predatory business model is not just unethical, it's also unsustainable. Valeant purchases companies with large amounts of junk bonds, fires most of the employees to cut costs, and then it raises the prices of the drugs it acquired. When Valeant acquired Salix Pharmaceuticals in April 2015, it raised the price of a diabetes drug made by Salix from $896 to $10,000.
A number that should have always troubled shareholders was that Valeant only spent 3% of its money from sales on the research and development of new drugs. According to Lewitt, most drug companies spend 15% to 20%.
And one of Valeant's best-selling drugs is facing a major setback…
Valeant had to announce at the end of February that its top-selling gastrointestinal drug Xifaxan is facing competition from pharmaceutical goliath Allergan Plc. (NYSE: AGN). Allergan is seeking permission from the Food and Drug Administration to sell a generic competitor. Xifaxan had $975 million in sales in 2015, according to The Wall Street Journal.
That's a huge loss in sales from just one product if Allergan does receive permission to produce a competitor.
So even though it may appear that the Valeant stock price is trading at a major discount, this is still a stock you want to stay as far away from as possible.
Jack Delaney is an associate editor for Money Morning. You can follow him on Twitter and follow Money Morning on Facebook. 
 Protect Your Money in This Bear Market: It's true that you would have to be a fortune teller to know exactly when a bear market would start and end. But fortune telling isn't Chief Investment Strategist Keith Fitz-Gerald's profession. His goal is to protect your wealth, maximize gains, and help you focus on what's really going on in the market. In his Money Map Report, this financial guru has used his years of experience as a trader in one of Wall Street's leading firms to help his readers find 86 double- and triple-digit winners. You can learn more about Keith's Money Map Report here…