Tesla Motors stock is in focus this week as investors await one of the car industry's biggest events in years.
On Thursday, March 31, Tesla Motors Inc. (Nasdaq: TSLA) will unveil its new Model 3 vehicle, which has the potential to send the Tesla Motors stock price soaring.
Before we get to the impact the new vehicle will have on TSLA stock, here's why the Model 3 is so revolutionary...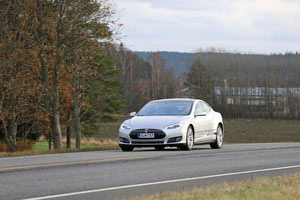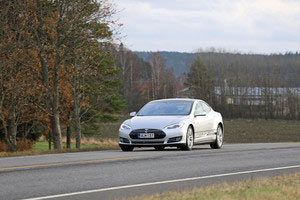 Dubbed the "everyman car" by Tesla CEO Elon Musk, the Model 3 is Tesla's new, more affordable take on its luxury cars. Interest is expected to be very high when the vehicle debuts.
Not much is known about the Model 3, but it is expected to be priced around $35,000. That's before government incentives, which could drive the cost significantly lower.
This is a big change for the automaker. Tesla's Model S sedan and Model X SUV retail for $70,000 and $80,000, respectively.
Tesla will begin taking reservations for the Model 3 on March 31, right after the live unveiling at 8:30 p.m. PT. The Model 3's debut can be viewed on the company's website.
For $1,000 down, customers can reserve a Model 3. Existing Tesla car owners have priority.
Model 3 production is scheduled to begin in late 2017. When production begins, Tesla will start with deliveries in North America on the West Coast, and then move east. As production ramps up, Tesla will begin deliveries in Europe and right-hand drive markets.
While the news is exciting for those looking to buy an affordable Tesla vehicle, it is even more exciting for those investing in Tesla Motors stock. This vehicle and the $488 billion market it targets are two of the biggest catalysts for the Tesla stock price moving forward...
Tesla Motors Stock Will Benefit from This New $488 Billion Market
Money Morning Technical Trading Specialist D.R. Barton is bullish on Tesla stock and says it is "head and shoulders ahead in the electric car front."
And with worldwide revenue from electric vehicles forecast to bring in $488.54 billion by 2030, Tesla stock needs an affordable vehicle like the Model 3 to appeal to the masses.
Tesla shares are up a meteoric 497.16% over the last three years and 913.17% over the last five. The Model 3 could send the Tesla stock price even higher.
Still, with the kind of volatility Tesla and global markets have experienced this year, TSLA stock is not for short-term investors. Tesla stock is a momentum play, so any negative news story has the potential to send shares lower in the short term.
But for long-term investors looking to buy and hold a stock for five to 10 years, TSLA stock is an excellent choice.
Musk's unparalleled vision and ability to create revolutionary products have propelled Tesla to the forefront of the electric vehicle market.
And with worldwide revenue from electric vehicles forecast to bring in $488.54 billion by 2030, Tesla stock is providing a huge profit opportunity.
"I think Musk is the most innovative CEO on the planet and that he sees value others don't yet recognize," Money Morning Chief Investment Strategist Keith Fitz-Gerald said in 2015. "Cars, batteries, innovative business models - nobody knows where it will go but ultimately if you're along for the ride, I think it'd be very hard to go wrong over time."
Solar Power Will Boom in 2016: Solar outperformed the rest of the energy market in 2015, and that trend shows no sign of slowing down. In fact, there's one incredible factor that will drive solar stocks to new highs in 2016. Here's the best way to play this skyrocketing industry...
Stay informed on what's going on in the markets by following us on Twitter @moneymorning or liking us on Facebook.
Related Articles: