For several months now, I've been telling you about the dangers of online lending, also known as peer-to-peer (P2P) lending.
Back in December, I told you that you'd be better off borrowing from online lenders than investing in their stock.
And I was right.
Since then, online lenders have seen their stock prices pummeled by various market forces. However, things could soon get much worse...
Right now, the Supreme Court of the United States is giving serious consideration to a case that could undo decades of precedent... and absolutely crush online lenders.
Today, I'm going to tell you why the case could represent a landmark in finance... and more importantly, I'll give you a trade that can deliver profits no matter how the court ultimately rules.
But before we do that, I need to give you a short history lesson on how we got here.
Let's do it...
Undoing Decades of Legal Loopholes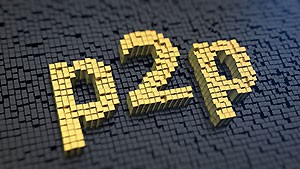 While some states have usury laws that limit how much interest lenders can charge, other states have no usury laws.
The way lenders get around state usury laws is by setting up their businesses in states that don't have usury laws and "exporting" their high interest rate charges across the country.
Now you know why your credit card bill comes from company headquarters in places like Sioux Falls, South Dakota; Las Vegas, Nevada; and Wilmington, Delaware.
Back in 1978, the Supreme Court ruled in Marquette National Bank of Minneapolis v. First of Omaha Service Corp. (a subsidiary of the First National Bank of Omaha) that the Omaha bank, being a nationally chartered bank, could "export" the interest rates allowed in its state to customers in Minnesota and throughout the country.
Fast forward to May of last year, when the Second Circuit Court of Appeals ruled in Madden v. Midland Funding (a Bank of America subsidiary) that Midland, which sold charged-off credit card debt (including the debt Madden owed), had no legal authority to transfer its ability to charge in excess of state interest rate caps to buyers of its charged-off debts.
While the Second Circuit Court's ruling is only binding in New York, Vermont, and Connecticut, if it's upheld by the Supreme Court, it would apply to all 50 states.
Of course, banks and lenders want the Supreme Court to overturn the Second Circuit's ruling.
For its part, the Supreme Court looks like it wants to hear the case. While it hasn't decided yet to put it on its docket, the court has invited the Solicitor General of the United States (part of the Justice Department) to file a brief in the case.
That means the court wants the Obama administration to weigh in, potentially letting the Consumer Financial Protection Bureau advocate on behalf of consumers it fights for against the likes of loan shark lenders.
Typically, if the Supreme Court asks the government for its view on whether an appeal should be granted, they usually end up taking the case.
So the odds are good that Madden v. Midland will make it to the high court.
Here's what it means for online lenders...
P2P Lenders Could Be Crushed by This Decision
While the case has ramifications for banks, credit card companies, other lenders, and the securitization market, online lenders may be the most exposed to an adverse ruling.
Online lenders (or P2P lenders) partner with small, nationally chartered banks that act as the lending intermediary between online funders and online borrowers.
P2P lending companies like Lending Club Corp. (NYSE: LC) and OnDeck Capital Inc. (NYSE: ONDK) have their small national bank partners initiate loans with whatever interest rates they can charge, which are then immediately packaged and sold to the online company whose funders provide the money to buy the bank-initiated loans.
The whole online lending business model, or at least the ability to charge high interest on loans, would be jeopardized if the Supreme Court rules online lenders can't hide behind any small national bank's ability to circumvent state usury laws by extending that authority to a non-bank lender.
Both Lending Club and On Deck's stock prices have been pummeled almost since they debuted. Part of the reason is fear that the online lending business has never faced a recession and if the United States enters one, high-risk borrowers on lending platforms could default in droves, causing serious pain for funders and the companies whose platforms are in the line of fire.
There's no chance those stocks are now going to pop higher if the Supreme Court takes up Madden v. Midland. In fact, the only chance they have of seeing any light is if the court hears the case and reverses the appellate court's ruling.
The Best Bet Against P2P Lending
One way to bet against online lenders is by shorting the newest player on the field.
Square Inc. (NYSE: SQ), the Jack Dorsey company that invented the little white square point-of-sale credit card reader, is about to get into the online lending game.
Square debuted back in November 2015 and has been on a roller-coaster ride ever since. It traded as low as $8.06 and is now at $13.95 - very close to its all-time high of $14.78.
Some of the buoyancy the stock's been enjoying of late is in anticipation of SQ getting into the P2P lending business.
But based on how the other publicly traded online lending companies' stocks have fared, I'm inclined to think Square is headed right back down to its lows.
SQ could get knocked back just on the news that the Supreme Court will hear the case - meaning we could see some quick profits regardless of how the court ultimately rules.
And if the Supreme Court decides against national banks' ability to export their high interest rates, Square could collapse quickly.
I like shorting SQ here, near its highs and using a 20% stop to cover your short if legal questions about the online lending model get favorably resolved.
It's a reasonable risk/reward way to take a shot on Square getting potentially flattened if the Supreme Court overturns decades of precedent in Madden v. Midland.
Follow Money Morning on Facebook and Twitter.
Two "Magic Tricks" Pushing Stocks Higher: Market have rallied lately, but this rebound is nothing more than smoke and mirrors designed to manipulate stocks higher. And there are two major forces perpetuating the illusion of healthy markets...
Join the conversation. Click here to jump to comments…
About the Author
Shah Gilani boasts a financial pedigree unlike any other. He ran his first hedge fund in 1982 from his seat on the floor of the Chicago Board of Options Exchange. When options on the Standard & Poor's 100 began trading on March 11, 1983, Shah worked in "the pit" as a market maker.
The work he did laid the foundation for what would later become the VIX - to this day one of the most widely used indicators worldwide. After leaving Chicago to run the futures and options division of the British banking giant Lloyd's TSB, Shah moved up to Roosevelt & Cross Inc., an old-line New York boutique firm. There he originated and ran a packaged fixed-income trading desk, and established that company's "listed" and OTC trading desks.
Shah founded a second hedge fund in 1999, which he ran until 2003.
Shah's vast network of contacts includes the biggest players on Wall Street and in international finance. These contacts give him the real story - when others only get what the investment banks want them to see.
Today, as editor of Hyperdrive Portfolio, Shah presents his legion of subscribers with massive profit opportunities that result from paradigm shifts in the way we work, play, and live.
Shah is a frequent guest on CNBC, Forbes, and MarketWatch, and you can catch him every week on Fox Business's Varney & Co.