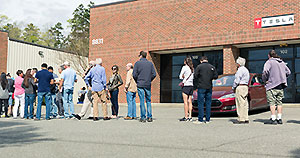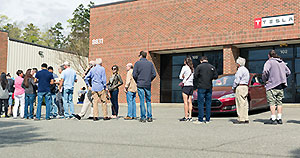 The Tesla stock price today (Monday) is up 4% in intraday trading because Tesla's Model 3 is already on track to be the best-selling electric vehicle of all time.
As of Sunday night, The Wall Street Journal reported the Model 3 had received 276,000 reservations in just three days. That's worth roughly $11.6 billion in revenue.
Sales of all electric vehicles in 2015 totaled just 115,000, according to Time.
And we expect the Tesla stock price to climb even higher in the long term. You see, Tesla Motors Inc. (Nasdaq: TSLA) is already "head and shoulders" above its competitors in a new $488 billion industry.
But before we get to that, here's why the Tesla Model 3 has already created sales worth more than $11 billion in just days....
Up until now, Tesla has only attracted wealthy customers. The MSRPs for the Model S and Model X are $69,000 and $80,000, respectively, while USA Today reported the average price of a new car or truck sold in the United States in April 2015 was $33,560. Clearly, Tesla wasn't targeting the masses.
But the Model 3 is an "everyman" electric vehicle...
The Model 3 costs $35,000, but CEO Elon Musk believes that most customers will opt to pay $42,000 for extended options.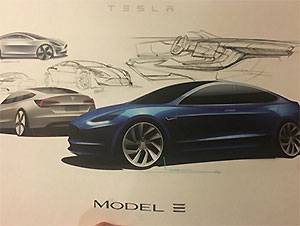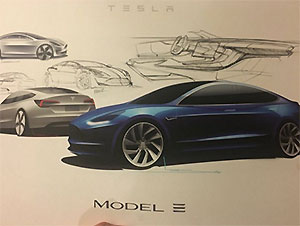 While it's 20% smaller than the Model S, the Model 3 still sits five people comfortably.
The Model 3 will also feature Tesla's "autopilot" program, which allows the car to automatically brake, switch lanes, and provide blind-spot warnings.
Always the optimist, Musk believes that the first Model 3 vehicles will be delivered in 2017.
Musk missed deadlines for both the Model X and Model S, but Tesla's Model 3 is much less complex than its predecessors.
The high demand is great news for TSLA shareholders. And the Tesla stock price will keep climbing due to its dominant position in this new $488 billion industry...
Tesla Stock Price Today Surges - That's Just the Start
Right now, Tesla is still not profitable, and that's a concern for some investors. According to Reuters, Tesla lost $4,000 for every Model S it sold as of August 2015.
In a volatile market, investors are right to question why it would make sense to own TSLA stock when the company has reported 11 straight quarterly declines in earnings per share (EPS).
But the Model 3 is the turning point for the company...
You see, electric vehicles are more than just a fad. Pike Research projects that annual worldwide electric vehicle sales will reach 3.8 million by 2020. With only 115,000 electric vehicles sold in 2015, that's a 3,205% increase in just four years.
And the potential revenue from the electric vehicle market is massive.
Analysts project that the electric vehicle industry will bring in revenue of $488 billion by 2030. So the $11.6 billion the Model 3 has already created is just an early look at how powerful the electric vehicle market really is.
"I think Musk is the most innovative CEO on the planet and that he sees value others don't yet recognize," Money Morning Chief Investment Strategist Keith Fitz-Gerald said in 2015. "Cars, batteries, innovative business models - nobody knows where it will go but ultimately if you're along for the ride, I think it'd be very hard to go wrong over time."
The Model 3 will make Tesla a profitable company and increase its access to cash. This means Musk can create more vehicles and other innovative products, which will make Tesla even more money.
But before you run out and add Tesla stock to your portfolio, keep in mind that it's not for short-term investors. Just from Jan. 12 to Feb. 12, TSLA lost 28%. If you can hold this stock for five to 10 years, though, it's a great investment.
TSLA is up 827% in the last five years, and Argus Capital upgraded Tesla to "Buy" from "Hold" on March 21 with a $333 price target. That's a 33% increase from today's opening price of $249.20.
The Bottom Line: The Tesla stock price today is climbing after the Model 3 received 276,000 pre-orders. This is just the beginning in the rising Tesla stock price, though, as Tesla is simply head and shoulders above everyone else in the electric car front. The electric vehicle industry is projected to bring in sales of $488 million by 2030, and CEO Elon Musk's visionary leadership has helped him establish a dominant foothold.
Jack Delaney is an associate editor for Money Morning. You can follow him on Twitter and follow Money Morning on Facebook.
The 5 Most Important 2016 IPOs to Watch: There was a shocking absence of IPO activity in 2015. But we'd like to see these five companies go public in 2016. If they do, they'll be the most exciting and promising deals of the year...