On April 3, the first news reports surfaced detailing leaked information in what's known as the "Panama Papers" – hacked email documents exposing more than 214,000 shell corporations created by Panamanian law firm Mossack Fonseca.
The Papers identified heads of state and government leaders from over forty countries as beneficiaries and investors in secretive off-shore shell companies.
The short list of who's been "outed" is already having profound effects across the globe.
But the leaked Panama Papers are the tip of a giant iceberg that's going to melt and drown more world leaders, powerful politicos, entire governments, moguls, bankers, and banks.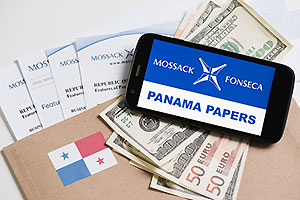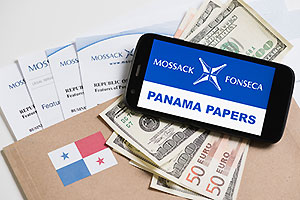 As more facts and figures come out of the 2.6 terabytes of data contained in 11.6 million hacked Mossack Fonseca emails, it's going to be impossible for shell company beneficial owners and tax-haven purveyors to escape regulatory and tax authority investigations.
Today, I'm going to tell you everything you need to know about how the shell game is really played – and how ordinary investors can use legal shell companies to protect their assets.
Then, later on, I'll explain who has been caught swimming naked and what pending investigations will do to shell company beneficiaries and the law firms and banks that aid and abet what amounts to a giant international asset juggling act… and I'll let you in on a secret of your own – how you can profit from the outcome of these investigations.
The Truth About Shell Companies
First of all, most shell companies are set up for perfectly legitimate purposes.
Shell companies are created using different entity structures. They're mostly set up as corporations and limited liability companies, but other structures designed to limit liability and provide anonymity for their beneficial owners can be used.
There are millions of legitimate "shell" companies just in the United States, set up for different reasons.
The buyer of a sought-after piece of real estate, for example, might want to create a shell company to bid anonymously for the property, not wanting the seller to know who they are and that they're capable of paying a lot more money.
That same buyer might keep the property in a shell company to protect it as an asset.
While the beneficial owner of the shell company and the property is a person, the law recognizes the shell company as a separate entity, distinct from its beneficial owner.
If something happens to the beneficial owner of the shell and property, such that he is at risk of losing what he owns, since he doesn't technically own the house, the shell owns it, the property may be safe from creditors.
An automobile can be put into a shell company. That way, if the beneficial owner of the car, who is authorized to use it by the company they set up to own it, gets into an accident in the car, injured parties who want to sue the owner of the car for more than their insurance covers won't get far. That's because the actual owner of the car is a company whose only asset is that car. There would be nothing to sue for, since the company housing the car has no other assets.
Still, that wouldn't stop injured parties from suing the driver of the car. However, the driver may have put all their other assets into shell companies and not directly own any assets themselves, and thus not be worth pursuing.
It's called asset protection, it's totally legal, and the richest families in the United States, from the Fords and the Rockefellers to a lot of smart people you probably know, have shells.
University of California Berkeley economist Gabriel Zucman estimates $7.6 trillion, or 8%, of global financial assets of households (not businesses) are held in shell companies, mostly in tax havens, which include the United States.
A Few Bad Apples…
Of course, shell company structures can be used for lots of other purposes, including legitimate tax minimization and tax avoidance purposes, as well as tax evasion schemes, which are illegal.
Ill-begotten money, from activities like bribery payments and drug smuggling, to dealing in conflict diamonds, can be hidden and "cleaned" through a process of moving money through different shell companies.
The Panama Papers give the world an insider's view into the tax-haven shell game.
Panamanian law firm Mossack Fonseca, which has offices around the world, sets up and helps manage shell companies in Panama and across the globe.
One reason shell companies are set up in Panama is that the cost to create them is cheap. Depending on the purpose of the shell, what it will be used for, how it will be used, if there will be other shell companies that have to be set up in other jurisdictions, and what "assets" might move through the shell companies, the cost of a "structure" can run from less than a $1,000 to millions of dollars.
Another reason Panama is popular is that foreign-sourced money coming into the country usually isn't subject to tax. And there is no capital gains tax (except on real estate) on interest income in Panama.
Interestingly, most of the asset-protection vehicles and shell company structures used by Mossack Fonseca, other Panamanian companies, and tax-haven jurisdictions around the world, are modeled on corporate laws established in the state of Delaware in 1927.
Most Mossack-created shell companies, as is the norm, are established by other shell companies to hide their true beneficial owners. In other words, a company sets up another company, so there are no persons named.
The shell company uses "nominee" directors, who are paid directors willing to act on behalf of the shell's real beneficiaries.
The secrecy is all well and good until the "corporate veil is pierced," usually through legal proceedings against a shell company that isn't set up properly or doesn't file proper paperwork when and where it has to.
That's why law firms are used. They keep clients on the proper paths as best they can.
That's all for today… soon, I'll go over who has resigned, who's going to have to resign, which governments are in serious jeopardy, and who the biggest losers will be.
And that's not all…
I'll tell you how law firms are going to be impacted, and more importantly, how bankers and banks are going to get hit by the fallout… and how you can make money when they get taken to the woodshed.
Follow Money Morning on Facebook and Twitter.
How to Profit in a "Roller-Coaster" Market: As volatile as global markets are right now, you can still get into position to make yourself a lot of money no matter which way these dicey markets go. You just have to know what to look – and listen – for…
Join the conversation. Click here to jump to comments…
About the Author
Shah Gilani is Chief Financial Strategist for Money Map Press and boasts a financial pedigree unlike any other. He ran his first hedge fund in 1982 from his seat on the floor of the Chicago Board Options Exchange. When options on the Standard & Poor's 100 began trading on March 11, 1983, Shah worked in "the pit" as a market maker. The work he did laid the foundation for what would later become the Volatility Index (VIX) - to this day one of the most widely used indicators worldwide. After leaving Chicago to run the futures and options division of the British banking giant Lloyd's TSB, Shah moved up to Roosevelt & Cross Inc., an old-line New York boutique firm. There he originated and ran a packaged fixed-income trading desk and established that company's "listed" and OTC trading desks. Shah founded a second hedge fund in 1999, which he ran until 2003. Shah's vast network of contacts includes the biggest players on Wall Street and in international finance. These contacts give him the real story - when others only get what the investment banks want them to see. On top of the free newsletter, as editor of The 10X Trader, Money Map Report and Straight Line Profits, Shah presents his legion of subscribers with the chance to earn ten times their money on trade after trade using a little-known strategy. Shah is a frequent guest on CNBC, Forbes, and MarketWatch, and you can catch him every week on FOX Business' "Varney & Co."