The Morgan Stanley stock price was moving today (Monday) on one major bearish earnings figure: trading revenue.
Still, shares of Morgan Stanley (NYSE: MS) were up a modest 0.16% to $25.81 because the bank did beat most earnings numbers. The MS stock price is now down 17.6% in 2016.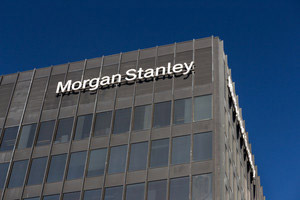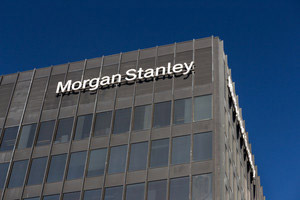 Before Monday's open, the investment bank reported that trading revenue sank 40% year over year (YOY) in Q1 2016. That resulted in a 53% drop in profit. The significant drop in revenue reflects widespread concerns about the economy and the muted appetite for trading that have plagued markets this year.
Morgan Stanley's earnings per share (EPS) also tanked YOY in Q1, dropping 53% from $2.4 billion to $1.1 billion, or $0.55 per share. Still, that was better than the projected $0.46 per share.
EPS beats will likely be the theme of this earnings season since the earnings bar has been set so low. Profits, sales, and revenue are still expected to be weak, as was the case in Morgan Stanley's results.
Revenue at the firm dipped to $7.79 billion. That was short of the $7.87 billion analysts expected.
Morgan Stanley and its peers are navigating through a steep slump in debt-trading business. The downturn drove the firm to cut jobs from its trading unit, which weighed down Morgan Stanley's return on equity. ROE is a key measure of a bank's profitability and is a major factor for the Morgan Stanley stock price in 2016.
Return on equity slumped to 6.2% from 13.5% YOY. Morgan Stanley executives promised to lift returns from 9% to 11%. Trading revenue fell 34% YOY to $2.69 billion from $4.08 billion.
Debt, currencies, and commodities trading revenue fell 56% to $873 million. Revenue from equity trading dropped 10% to $2.06 billion.
While most of these earnings figures are bearish, the MS stock price today is still mostly flat. But Morgan Stanley stock still faces a number of headwinds as we look ahead in 2016…
What's Next for the Morgan Stanley Stock Price in 2016
Morgan Stanley Chief Financial Officer Jonathan Pruzan cautioned earlier that January and February were "extremely turbulent" months for its trading business. But he was quick to add that March and April brought notable improvement.
Bank stocks have rallied recently as several big banks have beaten earnings. Financial stocks rose 4% last week. Still, the sector remains the worst performer of the year with a 4% overall decline.
And the environment remains challenging…
Investment banking revenue fell 16% to $990 million from $1.17 billion in the first quarter a year ago. Fees from mergers and other deals rose 25% to $591 million, while revenue on stock and bond underwriting slipped 43% to $399 million.
Revenue in Morgan Stanley's wealth-management arm was $3.67 billion, compared with $3.83 billion a year ago. In its investment-management division, revenue fell 29% to $477 million on private-equity and real estate fund losses. The money-management unit also struggled with markdowns on private-equity investments in the quarter.
Seven years of near-zero interest rates have tempered results at Morgan Stanley and other banks. And that's caused the Morgan Stanley stock price to fall nearly 5% in the last five years. During the same time, the Dow has climbed more than 45%.
While rock-bottom rates lower banks' borrowing costs, it has also limited what they can charge on loans and earn on other investments. The difference between the two – the net interest margin – has been declining since 2010. In short, bank stocks are trading like we're still in the 2008 financial crisis era.
The Morgan Stanley stock price is down 17.95% year to date and down 29.98% over the past year.
Stay informed on what's going on in the markets by following us on Twitter @moneymorning or liking us on Facebook.
What the World's Leading Energy Insiders Fear Most: There's a crisis brewing in America's oil fields that's not unlike the 2008 credit crunch. Soon, it's going to spread to the rest of the world. The fallout won't be pretty, but don't worry. You'll be prepared – and ready to play it for some gains…
Related Articles: