The price of silver had a standout performance last week, gaining 6%. That was its best week since mid-March, and outpaced the price of gold by 6.8%.
It's a welcome sign for those looking to invest in silver.
One favored metric, the gold/silver ratio, has begun to reverse, gradually heading farther in the silver price's favor.
As of today (Monday, April 18), silver prices are now way ahead of gold in 2016. Silver futures for May delivery are up 17.9% while gold prices have gained 16.2%.
But some investors aren't sure if silver prices will continue to outperform. After all, the silver price is down 0.4% to $16.25 today.
The big question is: Can the price of silver maintain long-term momentum in 2016?
Before we answer that, let's take a look at last week's stellar silver price performance…
The Price of Silver's Big Week Last Week
Silver prices soared out of the gate last week and simply didn't look back.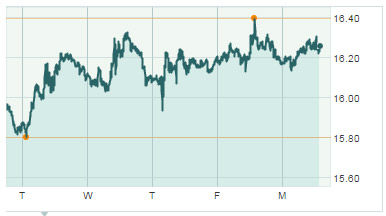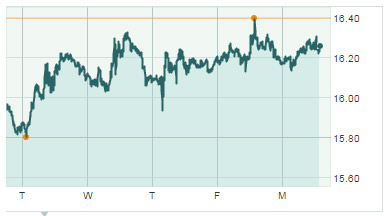 On Monday, April 11, the price opened at $15.56 after rising in early morning trading. From there, silver prices surged 2.2% to close at $15.91.
Silver's momentum continued on Tuesday and Wednesday thanks to movement in the U.S. Dollar Index.
The dollar plunged to a five-month intraday low of 93.60 on April 12, which pushed silver prices up 1.7% to close at $16.18. That was the first settlement above $16 since mid-October. While the dollar rallied toward 95.00 on Wednesday, the price of silver still managed a slight gain of 0.1% and closed at $16.20.
The last two days of the week were marked by little silver price action. After falling 0.3% to $16.15, silver prices jumped 0.6% to close the week at $16.24.
It was a good week for silver investors. And it's all thanks to this extremely important silver price measurement…
This Metric Will Keep Pushing the Price of Silver Higher in 2016
There's no doubt that recent silver price action is upbeat. After all, its 2016 performance now beats that of gold prices.
But perhaps even more bullish is what's been happening with the gold/silver ratio. This measures how many ounces of silver are required to buy an ounce of gold.
You see, the gold/silver ratio peaked at 83 back in early March, meaning it took 83 ounces of silver to buy one of gold. That's an extreme the ratio has reached only three other times in the past 20 years.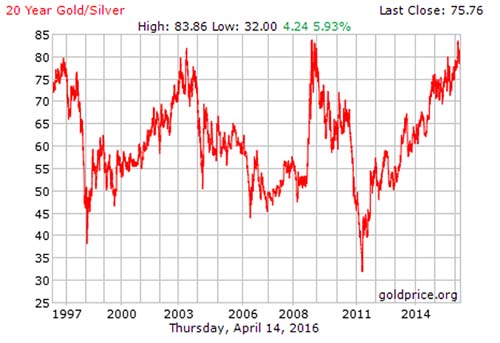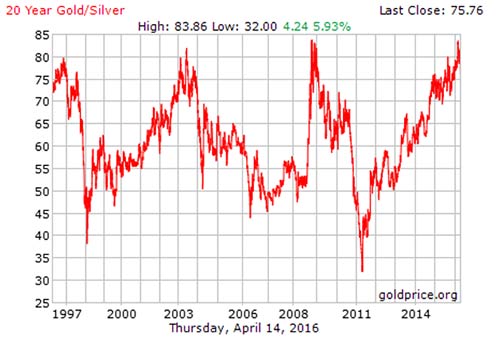 Each time that's happened, silver has gained relative to gold. Back in late 2010, the price of silver began a massive climb from $18 all the way to $49 by April 2011 – a whopping 172% gain in about eight months.
Lately, the gold/silver ratio has decreased from 83 to 76. Over that two-week time span, silver prices have risen 5.2% from $15.20 to $16.
Given the recent considerable strength in both the gold price and silver price, we could well be due for some kind of meaningful correction.  It may come in the form of a price drop, or it may manifest as a consolidation over time.
Once that's done with, silver's next move could be much higher.
Stay tuned to Money Morning for more updates on the silver price's long-term rebound. Follow us on Facebook and Twitter.
The Essential Guide to Buying Gold and Silver: Buying gold and silver is widely regarded as the best "crisis insurance" for your portfolio. This guide gives you everything you need to know about buying these two precious metals. Read more…
Join the conversation. Click here to jump to comments…
About the Author
Peter Krauth is the Resource Specialist for Money Map Press and has contributed some of the most popular and highly regarded investing articles on Money Morning. Peter is headquartered in resource-rich Canada, but he travels around the world to dig up the very best profit opportunity, whether it's in gold, silver, oil, coal, or even potash.