Both crude oil price benchmarks are on the rise again today (Tuesday, April 19), except this time the rise has nothing to do with the recent Doha meeting.
At 10:25 a.m., the West Texas Intermediate (WTI) crude oil price gained 3.1% to $41 a barrel. In the wake of the oil producers meeting in Doha, Qatar, the U.S. benchmark fell below $38 in intraday trading before closing at $39.78. Futures for May delivery are now up 6.9% in April.
The Brent crude oil price also moved higher this morning. The global benchmark – priced in London – was up 2.5% to $43.85 a barrel. Futures have surged 7.6% this month.
Here's why oil prices are up today…
This OPEC Country Is Lifting the Crude Oil Price Today
Crude oil prices today are being boosted by the Kuwait oil strike.
On Sunday, April 17, thousands of Kuwaiti oil workers began a strike in response to federal plans to cut wages and benefits for all public-sector employees. According to Kuwait Oil Co., the country's state-owned oil firm, Kuwait's output has fallen from nearly 3 million barrels per day to 1.1 million. BMI Research says daily nationwide output could decline to an even 1 million barrels if the strike continues.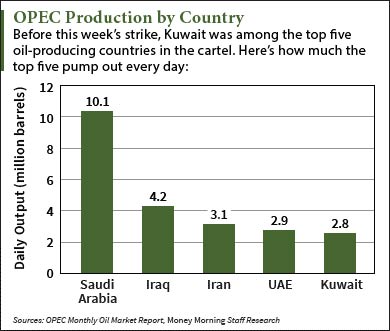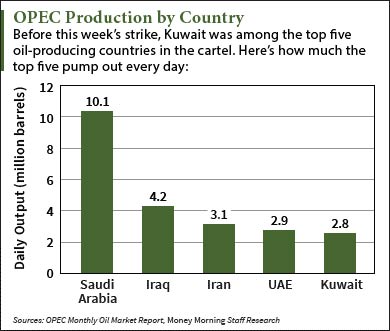 Kuwait isn't the only OPEC member experiencing supply disruptions. Major pipeline outages in Iraq and Nigeria have drastically reduced output in recent weeks.
For investors, that seems like a good problem to have. Many fear global oil prices will keep slumping in the wake of the failed Doha talks.
But according to Money Morning Global Energy Strategist Dr. Kent Moors, the perception of global supply levels has a larger influence than actual supply. For example, the U.S. rig count has fallen to a seven-year low of 351, while domestic supply levels have increased 10% over the last year. Despite this contradicting data, the perception is that U.S. supply is declining.
This bullish sentiment will gradually stabilize oil prices in 2016, which is why we're going to share Moors' newly revised price projections.
Not to mention we're recommending the best type of oil stocks to buy as prices stabilize this year…
Here's Our Crude Oil Price Targets for WTI and Brent
Moors currently predicts West Texas Intermediate will hit the $42 to $45 range by June. He also sees Brent reaching $50 by the same time.
And the oil stocks you'll want to invest in during the rebound are companies engaged in VSF drilling.
You see, vertical, shallow, formula (VSF) drilling allows you to pump large volumes of oil in a short amount of time. Since these wells only go 2,000 to 3,000 feet below the surface, they don't require expensive operating costs. These wells are profitable when the crude oil price is in the low $40s since the wells only cost upwards of $750,000 to operate.
Fracked wells can cost up to $5 million, which can drown firms in debt during low price periods. That's because high output doesn't cover the high maintenance costs when the price of oil is at a 10-year low.
An example of a VSF drilling company is Baytex Energy Corp. (NYSE: BTE). The Canada-based energy firm has drilled $750,000 VSF wells in the oil-rich city of Lloydminster for more than two decades. As of April 19, the BTE stock price is up a massive 42.3% so far this year.
Alex McGuire is an associate editor for Money Morning who writes about crude oil prices. Follow him on Twitter for all the biggest crude oil price updates.
Like us on Facebook: Money Morning
Where the Oil Price "Yo-Yo" Is Heading Next: Oil prices have been moving up and down within a given range, seemingly without reason. But behind the scenes, the pieces are getting in place for crude oil prices to move up to $42 to $45 per barrel – soon. And that will give you plenty of opportunities…