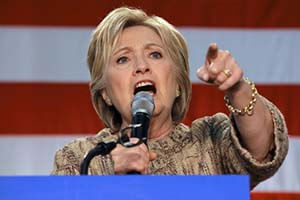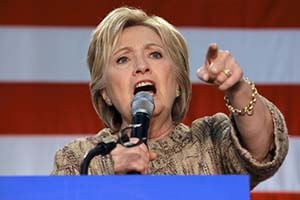 Democratic front-runner Hillary Clinton scored an important New York primary victory over Vermont Sen. Bernie Sanders on Tuesday.
Clinton picked up 139 delegates, while Sanders grabbed 109. That brings Clinton's total delegate count up to 1,428, which includes 502 "superdelegates" - unelected delegates that are free to support any candidate at the Democratic National Convention.
Clinton's hometown win was much-needed. Sanders had won seven of the last eight primaries.
As Clinton takes her 277-point lead into the next five primaries on April 26, many are beginning to wonder what a Clinton White House would look like...
For example, if she does become the Democratic nominee, who will Hillary Clinton's vice president be?
Here are the top five individuals we think are most likely to be Hillary Clinton's vice president options...
5 Candidates for Hillary Clinton's Vice President
1. Vermont Sen. Bernie Sanders: Clinton's most politically savvy vice presidential choice is Bernie Sanders. Sanders has the kind of moral and charismatic appeal that Clinton often lacks. This makes him an ideal choice to balance out her less popular qualities.
Sanders also has a wide base of support that Clinton would be smart to tap into. He polls significantly better than Clinton with younger voters. Currently, he has a 17-point lead among millennials over Clinton, according to a USA Today/ Rock the Vote poll on March 14. He draws enthusiastic crowds of thousands to his rallies, while Clinton rallies draw much more humble crowds. Clinton could use the kind of excitement that Sanders generates on the campaign trail.
The Vermont senator has also been the longest-serving independent in U.S. congressional history, which could help Clinton draw more votes from independent and moderate voters.
Our next vice president pick for Clinton would be a perfect foil against a Republican nominee like Donald Trump...
2. Minnesota Sen. Al Franken: If Trump becomes the Republican nominee, there's speculation that Clinton could choose someone with the wit necessary to challenge his notorious one-liners.
That man might be Franken, a former "Saturday Night Live" writer turned senator. Franken is recognized for his humorous - often politically incorrect - attacks against conservative pundits. Clinton - who many think will be unwilling to battle in the mud with Trump - could use Franken as her surrogate fighter.
3. Vice President Joe Biden: Biden spent decades in the Senate and understands how the federal government works. He's also helped President Obama handle many projects that involved different agencies and branches of government.
For instance, he helped implement the Recovery Act, which was one of the great successes of the Obama administration. That was when the government distributed a nearly trillion-dollar stimulus package without any major scandals or controversies.
Biden has also kept a strong relationship with President Obama over the last seven years, something that a lot of vice presidents can't say, according to The Washington Post.
Although it's uncommon for a vice president to serve three terms, it's clear that Biden has the experience and knowledge to be an asset for a President Clinton.
4. Labor Secretary Tom Perez: Perez has a lot of potential to appeal to the more liberal side of the Democratic Party - the side where most of Sanders' supporters come from.
Perez has also already been campaigning for Clinton. Since he endorsed her last December, he's stumped for her in four of the early-voting states.
The son of Dominican Republican immigrants, Perez is the first Cabinet member of Dominican descent. He was a strong advocate for Latinos during his time at the Department of Justice's Civil Rights Division. Perez's Latino heritage, youthful charisma, and over two decades of political experience could help Clinton broaden her appeal among Democrats.
5. Massachusetts Sen. Elizabeth Warren: Warren, although a freshman senator, is a well-regarded member of the Senate Banking Committee. She's had a big role questioning the practices of Wall Street banks, a popular theme in election 2016.
At a Banking Committee hearing on Feb. 14, 2013, Warren was quoted saying, "I'm really concerned that 'too big to fail' has become 'too big for trial'."
Videos of Warren's challenge to Wall Street was popularized over the Internet, generating millions of views in just a few days.
Warren has made it clear that she could fill an attack-dog role for Clinton. In recent weeks, she used the same gusto in her Wall Street questioning to highlight the supposed faults of Ted Cruz and Donald Trump.
By having another woman on her presidential ticket, Clinton could appeal to even more moderate women who are turned off by Trump or Cruz.
Do you have a theory who will be named Hillary Clinton's vice president? Tell us on Twitter @moneymorning or like us on Facebook.
Who's Afraid of Donald Trump? A powerful group of men joined together on Jekyll Island. Their goal was to secretly work their influence over the American people. And to stop the progress of Donald Trump's presidential campaign... at all costs...
Related Articles: