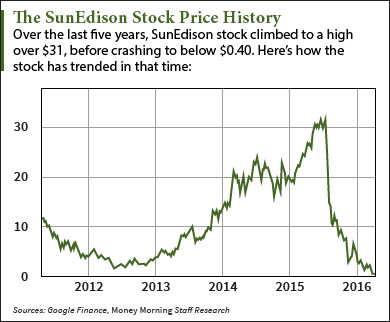 After years of feverish deal-making, solar energy firm SunEdison Inc. (Nasdaq: SUNE) has filed for bankruptcy protection. And now, the SunEdison stock price has fallen nearly 99% in the last nine months.
Here's a closer look at the extremely volatile history of the SunEdison stock price…
Once a darling of the clean energy power industry, SunEdison grew at a frenzied pace. The company had an insatiable appetite for acquisitions and was able to generate easy money in a low interest rate environment.
However, the company's strategy of buying smaller firms to increase its market share left it saddled with mountains of debt. And that was a problem the company and SunEdison stock could not overcome.
According to the Chapter 11 filing, the embattled Missouri-based company had assets of $20.7 billion and liabilities of $16.1 billion as of Sept. 30.
SunEdison used its two publicly traded subsidiaries, TerraForm Power Inc. (Nasdaq: TERP) and TerraForm Global Inc. (Nasdaq: GLBL), to finance some deals. These firms are known as "yieldcos." A yieldco is a company formed to own assets that generate cash flow.
But as the SUNE stock price started to fall in mid-2015, credit dried up. The appeal of these yieldcos started to wane as investors took on less risk. Then, SunEdison's acquisition spree came to a halt and its trouble came to light.
Of the 11 deals reached since last May, SUNE failed to close five of them. And those had a combined value of $3.8 billion, according to FactSet.
The high-profile $1.9 billion takeover of rooftop solar panel installer Vivant Solar Inc. (NYSE: VSLR) highlighted SunEdison's woes. In early March, Vivant terminated a deal to be taken over by SunEdison after SUNE failed to "consummate" the merger. That caused the involved banks to back away from providing funding for the deal.
Things only snowballed from there, leading to the tremendous crash of the SunEdison stock price in 2016…
The SunEdison Stock Price Fades to Black
Instead of deal-making, SunEdison soon found itself engaged in debtor-in-possession negotiations. It is also facing investigations by U.S. regulators over failed deals and liquidity claims.
When SunEdison posted Q3 2015 results, it said it had nearly $1.4 billion in cash. But SunEdison reportedly overstated the amount of cash it had on hand. Much of the cash couldn't be accessed by SunEdison and was already allocated for project construction.
Creditors started lining up last summer for payment and promised deliveries.
Then, SUNE delayed financial filings and started working to renegotiate or litigate deals and other investments "to exit at minimal costs." That only added to the downward pressure on the SunEdison stock price.
A key problem was that SUNE wasn't aware of all the problems within its divisions because it had so many of them.
SUNE has lost more than $9 billion in equity. Before trading was halted Friday, SunEdison stock was changing hands at $0.34. Last July, SUNE fetched $33.40 a share.
SunEdison is the No. 2 solar-installation firm in the United States, with a 4.2% market share. Its collapse ranks as one of the largest corporate bankruptcies in recent years. Stay tuned to Money Morning for continued updates on SunEdison and the SunEdison stock price in 2016.
Follow us on Twitter @moneymorning and like us on Facebook.
The World's Energy Insiders Biggest Fear: There's a crisis starting in America's oil fields that's not unlike the 2008 credit crunch. Soon, it's going to become a global problem. The fallout will be ugly, but don't worry. You'll be prepared – and ready to play it for some gains…
Related Articles: