The gold price in 2016 continues to indicate a new emerging bull market. And there are several factors that have driven gold prices 2.5% higher in recent weeks.
With interest rates at record lows, and even negative in some parts of the world, investors have turned to gold because of its safe-haven appeal.
With roughly one-third of government debt worldwide paying negative rates, investors are turning to gold as a profitable investment in this negative rate environment.
And we're seeing that increased investor interest in this week's gold price performance…
Why the Gold Price Received a Big Boost This Week
After gaining 0.4% on Friday, April 15, gold prices kicked off this week with a mostly uneventful session. The price of gold fell a slight 0.2% to close at $1,232 on Monday, April 18.
But the gold price sharply rebounded the following day. It rocketed in early morning trading and ended up adding 1.5% to settle at $1,250. Although gold prices gave back most of their early-morning gains, its $18 rally by the end of the session was still worth boasting about.
Besides the more fundamental gold price drivers like negative rates, it seems the U.S. Dollar Index (DXY) was also a contributing factor. It had already been declining, but Tuesday saw the DXY hit 94 – the lowest level since mid-2015.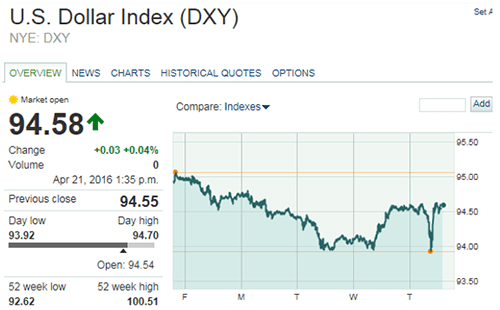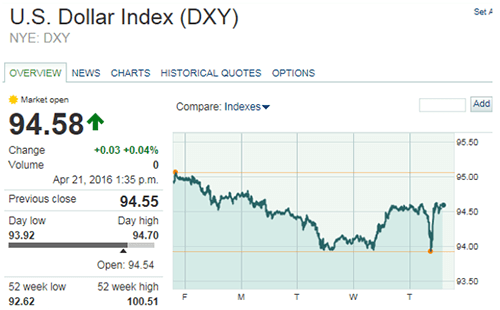 Although the dollar's weakness continued into Wednesday, gold prices sensed it was likely temporary. They tumbled 0.5% to $1,244 on the day.
On Thursday, the gold price jumped 0.4% to close at $1,249. As of 10:10 a.m. today (Friday, April 22), the price of gold was trading down 0.6% to $1,241.50.
And this past week's movement in gold prices has to do with what I call "dumb money" and "smart money." Here's how these two forces have an incredible impact on the gold price in 2016…
Why These Two Types of Money Will Move the Gold Price in 2016
Dumb money is considered to be the large speculators who trade gold en masse. The latest Commitment of Traders (COT) report for gold shows that large speculators are all betting on higher gold prices, which typically marks a peak.
Right now, total contracts for higher gold prices exceed 200,000. The gold price declined the last four times the number of contracts was that high because sentiment became too bullish. In other words, too much of a good thing is bad.
On the flipside, the "smart money" – which includes commercial traders – is taking the opposite end of the trade. Commercial traders have been increasingly hedging against lower gold prices.
They believe the price of gold will take a breather at this point. Given its 11.5% surge over the last three months, that looks completely reasonable.
The other big factor to watch is the dollar. The DXY has traded in a range between 94 and 100 since early 2015. It's been back down near 94 for the past month. If the dollar rallies from here, we could see it contribute to some weakness in gold for a while.
But if it drops below 94 in a sustained way, we could see it head considerably lower. That, in turn, will be extremely bullish for gold.
Stay tuned to Money Morning for constant gold price updates. Follow us on Twitter or like us on Facebook.
This Is How You'll Profit from Gold in 2016… Despite recent drawbacks, gold prices will see a long-term rally this year. And profiting from this rally requires actually knowing how to invest in the yellow metal. That's why we've created this guide to investing in both gold and silver this year…
Join the conversation. Click here to jump to comments…
About the Author
Peter Krauth is the Resource Specialist for Money Map Press and has contributed some of the most popular and highly regarded investing articles on Money Morning. Peter is headquartered in resource-rich Canada, but he travels around the world to dig up the very best profit opportunity, whether it's in gold, silver, oil, coal, or even potash.