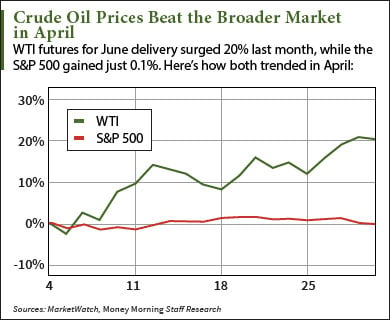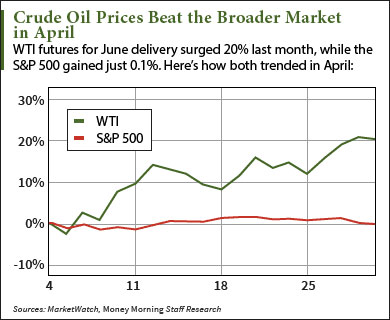 After last month's rally, crude oil prices today (Monday, May 2) kicked off May on a weak note.
At 10:20 a.m., WTI crude oil prices were down 1.9% and trading at $45.06 a barrel. That was a stark contrast from the commodity's performance in April.
The U.S. benchmark soared 19.8% in April to $45.92 – the highest level since Dec. 1. Futures for June delivery have gained 10.7% so far this year.
Brent crude oil prices were even more volatile this morning. The global benchmark fell 2.5% to $46.18 a barrel. Futures for July delivery gained 13.3% last month.
Today's losses come from this bearish supply data released this morning…
This Report Is Dragging Down Crude Oil Prices Today
A surge in OPEC production last month is causing the drop in Brent and WTI crude oil prices today.
According to Reuters, OPEC pumped 32.64 million barrels a day in April. That's up 170,000 barrels from its March output. And it falls just short of the cartel's January output of 32.65 million a day, which was the highest in nearly two decades. The production data would have been higher had it not been for the Kuwait oil strike and other countries experiencing supply disruptions.
Most supply concerns still center on Iran, which is quickly boosting output to a pre-sanctions level of 3.5 million barrels a day. Investors worry the troubled OPEC country will use its 157 billion barrels of oil reserves to flood the market and suppress the crude oil price.
But Money Morning Global Energy Strategist Dr. Kent Moors – a 40-year veteran of the energy industry – says Iran's oil infrastructure is too decrepit to maintain that output level. With decades-old technology and rupturing pipelines, the country's output won't have a negative effect on crude oil prices anytime soon.
"Iran needs outside help fast," Moors said on March 17. "For all the talk of Iran increasing exports, that rate will take some time to reach and isn't sustainable given the current state of its equipment and infrastructure."
Stay updated on the most important oil price news. Follow the author on Twitter at @AlexMcGuire92.
Like us on Facebook: Money Morning
What to Expect from Oil Prices in 2016… Crude oil prices have staged a massive rebound over the last two months. Despite the rally, oil is slowly becoming less significant in the broader energy sector. That's why our new 2016 price forecast takes into account this emerging energy mix. Here's how you can profit from oil's role in this "new energy age"…