After last month's performance, it's clear the price of silver is on a red-hot rally.
Silver prices gained 15% over the past month, clocking an impressive breakout past the $16 level.
I've been telling you recently that the gold/silver ratio was pointing to a much stronger silver price, and it seems that's been coming to pass.
Last week, silver reached its highest level in a year and posted its best monthly gain since 2013.  As I had expected, it's outpaced the gold price.
But its near-term outlook is up for debate after a blistering run through the month of April.
Before we get to what's in store for silver prices in 2016, let's look at how the metal performed last week…
Why the Price of Silver Reached a One-Year High Last Week
After gaining only 0.7% to $16.99 on Monday, April 25, the FOMC meeting on Tuesday and Wednesday was expected to have a major impact on the silver price.
Silver traders must have sensed the U.S. Federal Reserve would not only keep interest rates unchanged the next day, but also continue its dovish stance regarding a possible June rate hike. That's when the U.S. Dollar Index (DXY) began breaking down further, providing support for higher silver prices. The dollar fell 0.3% to 94.51 on Tuesday, which pushed the price of silver up 0.6% to $17.16.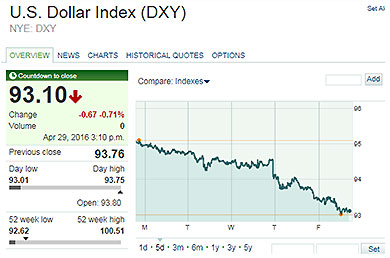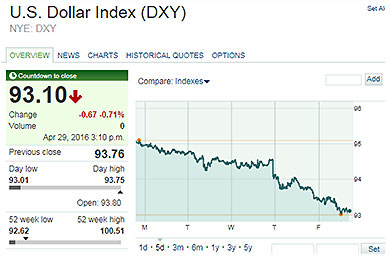 As we know, the FOMC unsurprisingly left rates unchanged on Wednesday. While the DXY remained flat throughout the day, the silver price opened at $17.29 and closed a bit lower at $17.21.
But Thursday was when the silver price action returned. The DXY tanked suddenly overnight and lost 0.7% during the session to close at 93.76. This volatility in the greenback pushed silver prices up 1.9% to settle at $17.53.
On Friday, April 29, the price of silver gained another 1.3% to close at $17.82 – the highest level since May 18, 2015. On that note, silver prices posted a weekly gain of 5.1%.
It was a good week for anyone long silver. But it was an even better week for traders invested in this particular silver exchange-traded fund (ETF)…
This Silver ETF Surged 11.9% Last Week Thanks to the Price of Silver
Silver stocks also had a tremendous run last week. Here's what the Global X Silver Miners ETF (NYSE Arca:
SIL
) action looks like since the year started.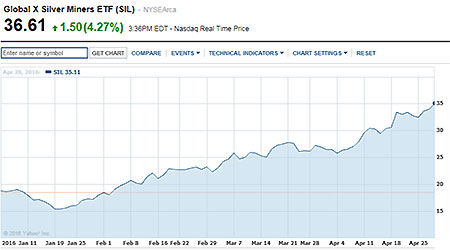 From its low of $15.41 on Jan. 19, SIL has
doubled
in exactly three months. And then it kept heading higher. It's up an astounding 137% since bottoming and gained nearly 12% just last week alone.
But SIL is not the only silver ETF that's been attracting attention…
According to the Silver Institute, the iShares Silver Trust (NYSE Arca: SLV) just turned 10 years old. It's now the largest silver-backed investment project in the world, holding a whopping $5.5 billion worth of the precious metal. SLV is up a solid 28.1% in 2016.
And analysts see the price of silver climbing even higher. Commerzbank expects the metal to close 2016 around $18 – slightly higher than the current $17.80 level. The bank also sees the price of silver correcting after its recent run-up, which they believe has been driven by speculation.
Bank of America Merrill Lynch analysts have a more optimistic bias, calling for silver prices to settle into the $15 to $20 range. Some Merrill Lynch analysts estimate that a small bump up in investment demand for silver could bring the precious metal to $20.
Stay tuned to Money Morning for more updates and analysis on the price of silver. Follow us on Facebook and Twitter.
How to Profit from Silver's 2016 Rally: Buying silver is the best way to protect your portfolio from any unforeseen market meltdowns. That's why we've created this 2016 guide to silver investing and how to profit from the white metal's gains. Read more…
Join the conversation. Click here to jump to comments…
About the Author
Peter Krauth is the Resource Specialist for Money Map Press and has contributed some of the most popular and highly regarded investing articles on Money Morning. Peter is headquartered in resource-rich Canada, but he travels around the world to dig up the very best profit opportunity, whether it's in gold, silver, oil, coal, or even potash.