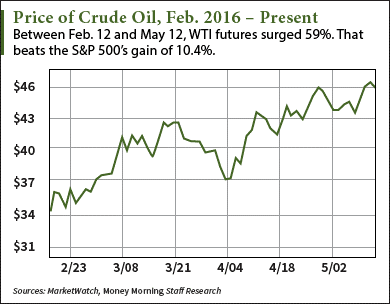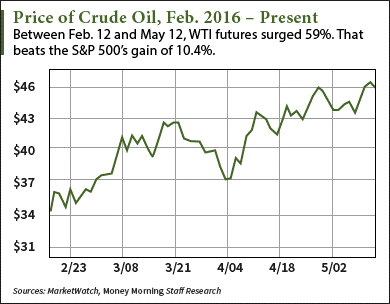 The price of crude oil has seen a tremendous rally over the last three months. Since Feb. 12, WTI crude oil prices have gained a whopping 59%. They currently hover near $46.09 – the highest level since November.
And this rally is far from over…
With oil prices finally stabilized in the mid-$40 range, Money Morning Global Energy Strategist Dr. Kent Moors says there are three factors that will guide prices higher in 2016.
Before we get to that, here's what's moving crude oil prices this week…
Why the Price of Crude Oil Surged This Week
Both global and U.S. crude oil prices ended the week on a bad note.
As of 12:55 p.m. today (Friday, May 13), WTI crude oil prices – the U.S. benchmark – are down 1.3% to $46.09 a barrel. Brent crude oil prices – the global benchmark – are also down 0.8% to $47.69. The drop is attributed to investor skittishness over producers possibly boosting output due to recent oil price gains.
Despite today's short-term loss, Brent and WTI crude oil prices are on track for their fifth weekly gain in a row. And it's all thanks to an incredibly bullish report from the International Energy Agency (IEA).
On Thursday, the price of crude oil reached a six-month high after the IEA said it expects global supply to fall by 200,000 barrels a day during the last half of 2016. This decline will happen despite Iran's surging output, which hit a pre-sanction level of 3.6 million barrels a day last month.
The IEA's bullish outlook indicates production is peaking around the world.
And Moors – a 40-year veteran of the oil market who advised high-level U.S. and Russian energy agencies – says the production curve ties into these three bullish oil price factors…
The 3 Factors That Will Move the Price of Crude Oil Higher in 2016
Price of Crude Oil Factor No. 1: Peaking Global Output
Production in the world's biggest oil countries already reached historic highs earlier this year.
Back in January, OPEC output reached 32.6 million barrels a day – the highest since at least 1997. Russian output hit 10.8 million barrels per day in March. That was the highest since 1986.
According to Moors, U.S. oil production from the shale boom is peaking as well. That's because shale and tight oil wells pump most of their volume within the first 18 months they're online.
Because drilling more shale wells is expensive, companies are starting to use "drilled but uncompleted" (DUC) wells. A DUC is a type of well that isn't pumped to its peak output level. Right now, DUCs are being used as an affordable alternative to recovery tactics like flooding oil cracks with water and injecting them with gas.
Oil firms are gradually replacing their shale wells with these DUCs. That's because they're used to replace declining output from shale wells, rather than pump more supply and flood the market.
"An increase in DUCs doesn't mean we are approaching some major boost in production," Moors said. "But they also represent another element restraining the slide in prices."
Price of Crude Oil Factor No. 2: Rising Debt Among U.S. Energy Companies
Oil firms are shutting down more oil rigs every week. They've simply become too expensive to operate and maintain. That's because they can't turn a profit when they're investing $500,000 on wells to produce oil that costs only $46. This trend shows in the Baker Hughes Inc. (NYSE: BHI) rig count, which has fallen for eight straight weeks.
These U.S. energy companies will need to keep canceling drilling projects to conserve money and reduce some of their debt. This drop-off in wells will eventually force many firms to shut down altogether. That will reduce the number of drillers (i.e. supply) and boost WTI crude oil prices.
"The energy debt crisis is getting worse for a number of oil companies because they simply can't roll over their high-risk debt and cover the 21% annualized interest rate," Moors said on May 12. "The effect will be a drop in the number of oil and gas players – whether via bankruptcy or M&A activity."
Price of Crude Oil Factor No. 3: Boiling Saudi-Iran Relations
Saudi Arabia and Iran – two of the world's largest oil-producing countries and geopolitical rivals – haven't been playing nice this year.
It all started when the Saudis executed a popular Shiite activist involved in the Arab Spring uprising. The death incited protests and led mostly Shiite Iran to sever ties with mostly Sunni Saudi Arabia.
Now, the Saudi Deputy Crown Prince Mohammad is using his country's oil policy to edge out Iranian oil exports. Since Saudi Arabia is the de facto leader of OPEC, Mohammad is pressuring the cartel to boost production to crowd Iran out of the market.
"Saudi Arabia's output war with Iran will put a cap on how quickly oil prices increase around the world," Moors said.
"Remember, high oil prices aren't required to profit from this market. The only thing we need is a narrow trading range and stability in prices."
Alex McGuire writes about the price of crude oil for Money Morning. Follow him on Twitter for the biggest energy updates.
Like us on Facebook: Money Morning
Why No Other Energy Source Will Ever Replace Crude Oil: As oil's dominance wanes in the energy sector, investors assume another source of energy will replace crude oil altogether. But there's no "silver bullet" that will kill oil's importance. Instead, a brand-new energy environment is forming as we speak…