Over the past trading week, silver prices per ounce have been in an ongoing battle with the U.S. Dollar Index (DXY).
Late last month, we saw the silver price flirt with the $18 level. It has since backed down but has continued to trade in a relatively narrow range between $16.80 and $17.50.
But we've recently witnessed some strength in the U.S. Dollar Index (DXY), which arguably became somewhat oversold in early May. It's bounced back 1.7% so far this month.
That's been the biggest headwind facing silver prices right now. And by many accounts, it may not be over yet.
There are a number of drivers that influence the price of silver. Supply and demand are the fundamental forces, but sentiment and technical indicators will also have a notable impact.
I'm going to explore some of those with you today. The goal is to see what we can determine about the direction silver prices are headed in the near and longer terms.
But first, let's look at the silver price action last week…
The Volatility in Silver Prices per Ounce Last Week
It was another bouncy ride for the silver price over the past five trading days.
Silver kicked off the week with a big sell-off. On Monday, May 9, silver prices per ounce dropped 2.5% to close at $17.09. This coincided with a jump in the U.S. Dollar Index, which gained 0.1% to 94.16 on the day.
Silver prices saw little movement the next day. They opened at $17.02 and closed the day fairly flat at $17.09. The DXY added 0.1% to settle at 94.27.
But the price of silver received a shot of life on Wednesday. In overnight trading, it climbed to a peak of $17.53. This happened as the dollar trended downward and bottomed at midday around 93.60. However, the DXY reversed and rose modestly towards 93.80. This capped silver's gains but still gave the metal a 1.8% gain to close at $17.40.
To get a better understanding of the dollar's movement, this chart shows how it trended last week…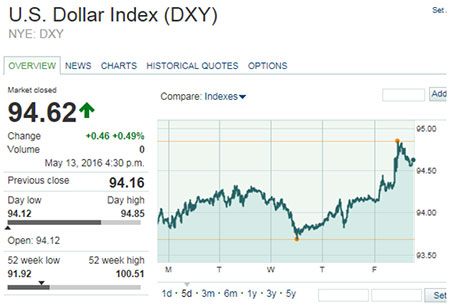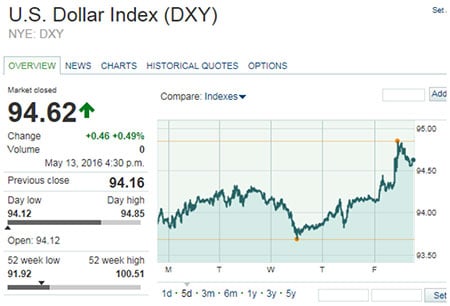 On Thursday, May 12, some weakness returned to the silver price thanks to the strengthening dollar. While the DXY gained 0.4% to close at 94.16, silver prices per ounce fell 2.6% to settle at $16.95.
To end the week, the price of silver faced some more challenging dollar strength. But despite the 0.5% gain in the DXY, silver managed to post a 1.1% gain on Friday. With that, silver prices saw a weekly decline of 1.8% to $17.13.
Although silver lost some ground last week, we see the metal rebounding in 2016 thanks to these three indicators…
The First Bullish Factor for Silver Prices per Ounce in 2016
The first indicator for silver prices in 2016 is production.
You see, the relationship between North American silver production and silver coin sales has undergone a sea change in the last 15 years. And since 2011, the market has been in a growing deficit situation.
According to SRSrocco Report, the Royal Canadian Mint's annual sales of Silver Maple Leaf coins jumped 18% in 2015 from 29.2 million to 34.3 million. If you combine the U.S. Mint's Silver Eagles sales with the Silver Maple Leaf sales, the 2015 total is 81.3 million ounces. That's a huge increase from 73.2 million ounces in 2014.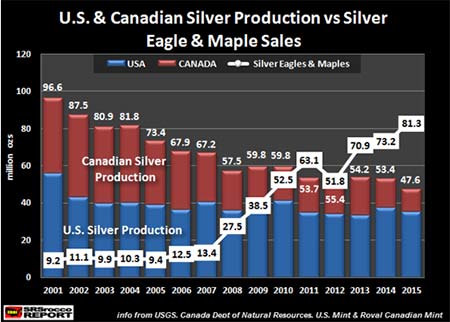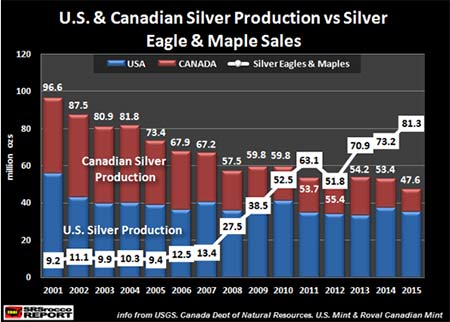 As you can see in the accompanying chart, there was plenty of North American silver production to meet Canadian and U.S. Mint sales between 2001 and 2007. In fact, there was a considerable surplus by this measure.
But sales kept growing. In 2008, annual sales of these coins doubled from 13.4 million to 27.5 million. They kept rising, nearly doubling again to 52.5 million in 2010.
With combined sales of U.S. and Canadian silver at 63.1 million units in 2011, the market found itself in a deficit. A major reason is the silver supply steadily declined from 2001 onward. And with the exception of 2012, the deficit has been widening ever since.
Last year, total sales of Silver Maples and Silver Eagles were 81.3 million ounces. That's a dramatic difference from the 47.6 million ounces of production in 2015. This begs the question, "How long can we keep importing silver, especially at current prices, to fill the widening gap?"
The conclusion is we can't for much longer. If sales remain high and head higher, the price of silver will naturally head higher due to supply and demand fundamentals.
The Second Bullish Factor for Silver Prices per Ounce in 2016
Now, let's consider the sentiment aspect of silver prices.
Silver's been the biggest gainer of the 2016 commodity rally. Prices are up 23.5% this year, while gold prices are up by 19.9%. The difference is not dramatic, but the pace of silver's gains has been somewhat more concentrated.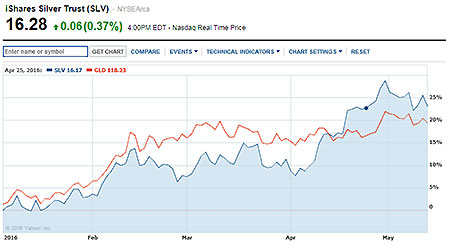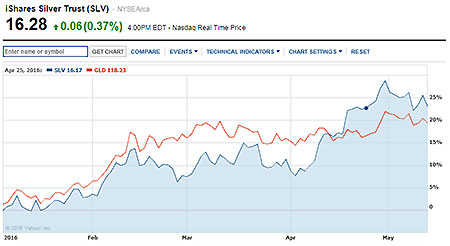 By charting the iShares Silver Trust ETF (NYSE Arca: SLV) and the SPDR Gold Trust ETF (NYSE Arca: GLD) – respective proxies for silver and gold – we see silver surged in early April. Meanwhile, the gold price rally has been steadier. On that basis, the price of silver may need to correct or consolidate before resuming its trend higher this year.
Besides the silver ETF, there's another important metric that will indicate the silver price path in 2016…
The Third Bullish Factor for Silver Prices per Ounce in 2016
The other helpful measure is the gold/silver ratio, which you'll see in this chart here…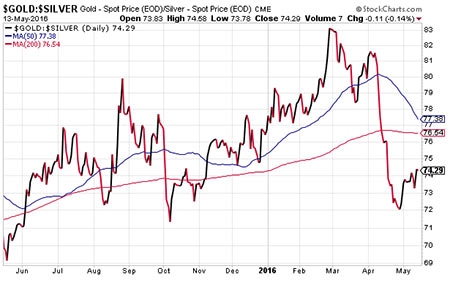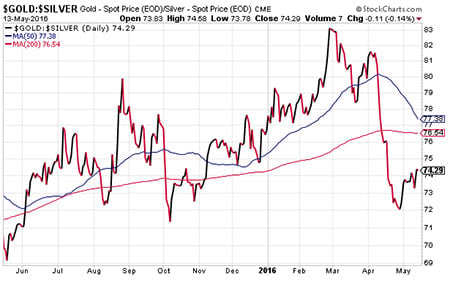 After peaking in late February near 83, the ratio has fallen back to 72. But it's been rising steadily since bottoming in late April.
That means it's possible we'll see the gold/silver ratio head a bit higher in the short term before it resumes its trend lower. If that's the case, we could see a little more pressure on the silver price as the ratio corrects.
In the meantime, I'll continue to keep a close watch on the U.S. Dollar Index for near-term direction clues. Otherwise, inputs like physical metals sales and ETF inventories should help us get a handle on what the silver price is likely to do in the longer term.
Follow Money Morning on Facebook and Twitter.
Your Guide to Profiting from Silver in 2016… There's no shortage of factors that will influence silver prices this year. That's why we created a 2016 Guide to Silver Investing that will show you how to make smart profit plays from the complex silver market. Continue here for our free guide…

Join the conversation. Click here to jump to comments…
About the Author
Peter Krauth is the Resource Specialist for Money Map Press and has contributed some of the most popular and highly regarded investing articles on Money Morning. Peter is headquartered in resource-rich Canada, but he travels around the world to dig up the very best profit opportunity, whether it's in gold, silver, oil, coal, or even potash.