It shouldn't surprise you that the topics I cover here have their impact on the markets - and seriously affect your pocketbook.
That's why I write about them - to give you an inside look at how Wall Street thinks, why they do what they do, how they get away with it, and who's responsible. That way, you can have a fighting chance every day - whether you've got a few thousand or a few hundred thousand in the markets.
In the last few weeks, we've covered some of the biggest stories in the world - and have taken advantage of some great profit opportunities in the process.
Here's a quick follow-up on a few of those stories, and how we've made money and are going to continue making money on these good, bad, and ugly trends.
Let's start with two of our biggest opportunities...
And then I'll tell you about a Disruptor I've been tracking that's about to change everything...
For the past year, I've been warning you about the "fintech" (financial technology) darlings known as online lenders (otherwise known as marketplace lenders or P2P lenders). In fact, last December, I told you that you'd be better off borrowing from an online lender than investing in one.
Since I started writing about the problems facing the online lending model in April 2015, things have been going downhill - quickly.
Two of the biggest online lenders - LendingClub Corp. (NYSE: LC) and OnDeck Capital Inc. (NYSE: ONDK) - have seen their stock prices fall 71% and 78%, respectively, since May 2015.
Just take a look: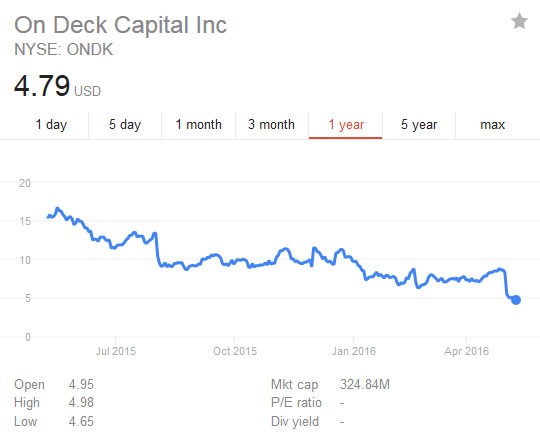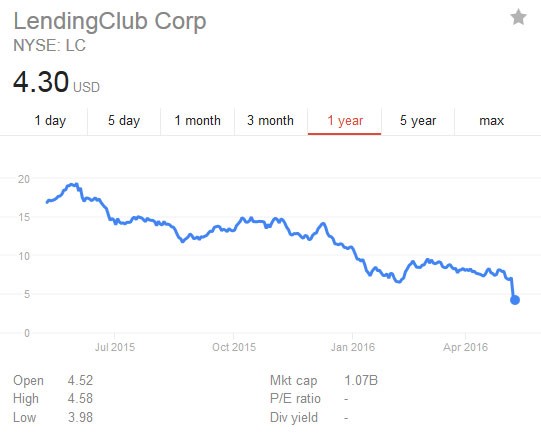 That's ugly.
LendingClub, in particular, is in huge trouble. The stock tumbled to $4.25 last Monday on news that the board of directors demanded the resignation of CEO Renaud Laplanche following an internal probe into the company's business practices. That's never a good sign.
What's really going on there is a whole story in and of itself - which I will fully flesh out for you soon. So stay tuned for more on this.
The other online lender we've been watching isn't even really an online lender - not yet, anyway.
This is another fintech darling that made its name in the mobile payments space and announced last year it would move into the online lending space.
Square Inc. (NYSE: SQ) is down more than 30% from where I recommended you short it some 40-something days ago in "One Trade to Profit from P2P Lending's Latest Headwind" - precisely because it decided to dip its toe into the online lending waters.
I really hate to say I told you so - but the fact is, we've been absolutely spot on with our moves in this space for the past year.
But here's the thing...
There's much more going on with fintech than almost anybody realizes. I should know - I've spent the last two years amassing data on this exciting, nascent corner of the markets.
And soon, I'll tell you everything you need to know about this hot-to-trot field, including which companies will conquer the space and which companies will end up as tiny historical footnotes.
One More Thing I'm Watching... and It's Huge
Last year, I identified a new Disruptor, a tiny biotech company that was poised to revolutionize healthcare as we know it through a little-known diagnostic test called "liquid biopsy."
Liquid biopsy is the next step towards taming the eight deadliest diseases faced by mankind, and I've found the one company that can truly lay claim to the best technology in this red-hot, rapidly growing field.
You see, liquid biopsy is a simple blood test that can detect cancer DNA in the bloodstream - sometimes years before any other symptoms emerge.
Once it identifies a cancer by its genome, doctors can use that information to tailor their treatments to treat very specific forms of cancer. So it's also the next step towards totally personalized medicine.
The company I've identified is a small-cap biotech and the only company in the world that offers a full suite of highly validated best-in-class commercial assays for genomic treatment. It's got lucrative partnerships with Big Pharma players, including Roche and AstraZeneca. It's C-suite is stocked with biotech veterans.
But here's the most important part...
The reason this stock stood out for me, the reason I recommended this company over all others in the field - and there are plenty of companies in the liquid biopsy space - is because of one thing: its liquid biopsy "factory."
Six months ago, I predicted that the company would roll out its liquid biopsy factory this spring, and I was right within a matter of weeks - it took just a bit longer than I thought to get it up and running... can't win 'em all I guess.
I also predicted it will roll out to 246,000 doctors' offices, treat 100 million patients, and create $30 billion in new wealth this year.
But there's been an exciting new development that changes everything - a single line from the company's most recent earnings call:
Right now, the company gearing up to open a new laboratory - essentially a second "factory" - and soon. They've already got a multiyear lease, the equipment, and hired more than 12 people to run it.
The company is basically doubling its capacity - that can only mean good things for the future. My current price target (which from here would represent more than 700% gains) is likely too conservative given this new development.
That means this is the last time I can give you access to this exciting research. Because once this company really starts to move, it's going to be too late - investors will have already missed the boat.
I've got a complete rundown of everything you need to know... all you have to do is click here.
Follow Money Morning on Facebook and Twitter.
Join the conversation. Click here to jump to comments…
About the Author
Shah Gilani boasts a financial pedigree unlike any other. He ran his first hedge fund in 1982 from his seat on the floor of the Chicago Board of Options Exchange. When options on the Standard & Poor's 100 began trading on March 11, 1983, Shah worked in "the pit" as a market maker.
The work he did laid the foundation for what would later become the VIX - to this day one of the most widely used indicators worldwide. After leaving Chicago to run the futures and options division of the British banking giant Lloyd's TSB, Shah moved up to Roosevelt & Cross Inc., an old-line New York boutique firm. There he originated and ran a packaged fixed-income trading desk, and established that company's "listed" and OTC trading desks.
Shah founded a second hedge fund in 1999, which he ran until 2003.
Shah's vast network of contacts includes the biggest players on Wall Street and in international finance. These contacts give him the real story - when others only get what the investment banks want them to see.
Today, as editor of Hyperdrive Portfolio, Shah presents his legion of subscribers with massive profit opportunities that result from paradigm shifts in the way we work, play, and live.
Shah is a frequent guest on CNBC, Forbes, and MarketWatch, and you can catch him every week on Fox Business's Varney & Co.