Today's silver prices are down another 0.5% to $16.46 – the lowest since April 18. And it's mostly thanks to the rising U.S. dollar, which is near its highest level in over a month.
Silver prices have been battling the U.S. Dollar Index (DXY) all year. In recent weeks, the dollar's been winning.
This has caused a sharp dip in the price of silver. Just three weeks ago, prices topped the $18 level. Today, it's closer to $16.50.
But silver's not the only metal falling. Gold prices have also seen short-term suffering due to the strengthening dollar.
As much as silver can leverage the gains in the gold price, investors need to know that gold can – and will – affect silver's performance. And with gold in correction mode right now, it's time to be cautious.
It's true that the fundamental indicators for the silver price remain very bullish. But the near-term technical and sentiment indicators are pointing in the opposite direction.
Today, we'll dive into several of these factors to review how both last week's prices performed and how today's silver prices are trending.
Then, we'll examine what may lie ahead in both the near and longer term…
Why Today's Silver Prices Are Continuing Last Week's Volatility
Silver prices kicked off the last trading week on a high note. After closing at $17.08 per ounce on Friday, May 13, the price of silver opened for trading on Monday, May 16, at $17.29. Although prices weakened throughout the day, they still closed at $17.12 for a gain of 0.2%.
The next day saw even more gains in the silver price. After opening slightly lower, it added 0.6% to settle at $17.22 per ounce.
Thanks to the release of the April FOMC minutes, Wednesday is when the silver price action began. The metal quickly priced in the hawkish sentiment of the U.S. Federal Reserve, which indicated that an April rate hike had support and a June rate hike was firmly on the table. Silver prices reacted by plunging to $16.81. However, the metal recouped some losses and closed at $16.88 for a 2% loss on the day.
For comparison, here's how the U.S. Dollar Index trended last week…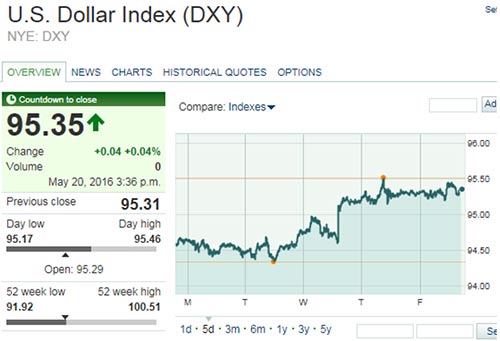 The sharp surge in the dollar after the minutes is clear. That jump became the primary headwind for both silver and gold prices.
On Thursday, May 19, the price of silver suffered more losses. As the DXY gained 0.1% to 95.31, silver plunged 2.5% to close at $16.46.
But momentum changed Friday. Silver prices managed to gain 0.4% to close the week at $16.53. As of 10:45 a.m., today's silver prices are down 0.5% to $16.46.
After last week, one thing is certain: The dollar will continue to have a similar impact on today's silver prices. Statements from the Federal Reserve – and what the FOMC committee eventually does with interest rates – will also influence silver prices to some extent.
But there are still several other factors that will move the price of silver in the short and long term.
Here are a few that we're keeping an eye on…
Two Factors That Will Affect Silver Prices in 2016
Looking at silver sentiment, indications are that weakness may lie ahead.
The first indicator is what's known as "smart money." This includes commercial traders who are hedging against lower silver prices. These traders are currently at their largest net short position since the bull market began in 2001. That's bearish for the near-term silver price.
We are also entering the toughest period of the year for the price of silver. Over the past few decades, May and June have turned out to be the worst months for the metal.
The silver price is also looking challenged on a technical basis. Here's what I mean…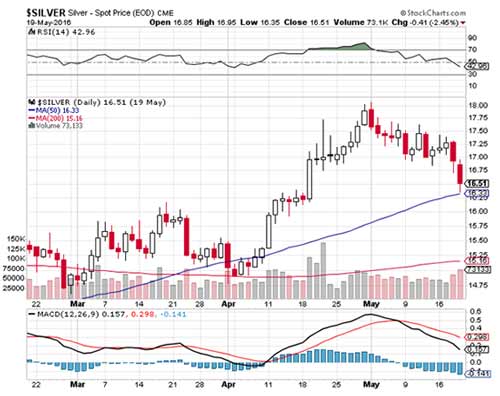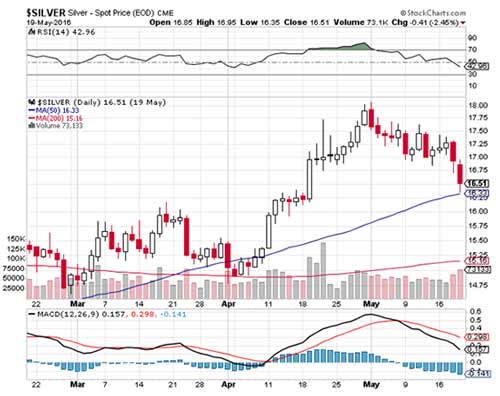 As you can see from this chart, silver prices have dropped dangerously close to their 50-day moving average, which currently sits at $16.33. If silver closes below that level, it would be a bearish technical signal that it will move even lower.
At that point, the next price target would be anywhere in the $15.75 to $16 range. After that, the next target would be in the $14.75 to $15.25 range. Stronger support could lie near the 200-day moving average, which currently sits at $15.16. Also, the RSI and MACD are both trending down, indicating negative momentum.
Considering how the summer months weigh on silver prices – and how the Fed could raise rates in June – the near-term outlook for the price of silver appears negative.
Fundamentally though, the long-term silver price outlook remains bright thanks to the second silver price indicator – coin sales.
Sales of the U.S. Mint's American Eagle silver coins have been high. The Mint reported a record pace of almost 22 million coins sold so far this year. That's a 35% increase over the same period last year, which itself was record-breaking.
According to the 26th World Silver Survey's annual report, a collaboration between Thomson Reuters GFMS and the Silver Institute, silver reached record demand in 2015. Last year also marked the third year in a row of annual deficits. In fact, last year's shortage was 60% larger than in 2014.
Both growing coin sales and declining silver supply mean silver prices will likely run higher over the long term. In fact, prices have already seen long-term growth, up nearly 19% this year.
This massive rally has also lent gains to prominent silver stocks, especially these two silver exchange-traded funds (ETFs)…
These Silver ETFs Are Rallying Despite the Decline in Today's Silver Prices
Silver ETFs have also been on a tremendous run this year.
One of the biggest performers has been the Global X Silver Miners ETF (NYSE Arca: SIL). The fund has gained an incredible 90% in 2016. Since bottoming out at $15.41 on Jan. 19, SIL has skyrocketed 129% to $35.33. This astounding rally will only continue over the long term as the price of silver runs higher.
But SIL isn't the only silver fund attracting investor attention…
According to the Silver Institute, the iShares Silver Trust (NYSE Arca: SLV) turned 10 years old on May 5. In that short amount of time, SLV has become the world's largest silver-backed investment fund. It currently holds a whopping $5.5 billion worth of silver assets and has gained 18.2% so far this year.
To sum up, the technical and sentiment indicators point to a possibly challenging summer for both silver prices and silver ETFs.
But with strong support on the fundamental side, including growing demand and declining supply, weakness in the coming months will likely make for a great buying opportunity.
Stay tuned to Money Morning for constant updates on today's silver prices. Follow us on Twitter or like us on Facebook.
How to Make Money from Silver This Year… Although the short-term outlook is bearish, silver prices will rally over the long term. This has many investors wondering how they can profit from the action. Here's our handy guide for investing in precious metals…
Join the conversation. Click here to jump to comments…
About the Author
Peter Krauth is the Resource Specialist for Money Map Press and has contributed some of the most popular and highly regarded investing articles on Money Morning. Peter is headquartered in resource-rich Canada, but he travels around the world to dig up the very best profit opportunity, whether it's in gold, silver, oil, coal, or even potash.