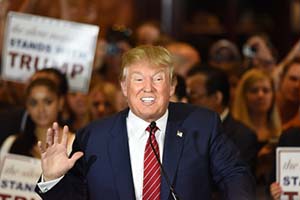 China-U.S. relations have become a central part of Donald Trump's platform since he announced his candidacy on June 16, 2015.
In almost all of his stump speeches, Trump mentions China in some capacity (see video below).
The Republican nominee has heavily criticized China's inclusion in the World Trade Organization under former President Bill Clinton. Since China joined the WTO, Trump said that more than 50,000 factories and millions of jobs in the United States have been lost.
Trump has a long to-do list with China, which he portrays as boldly opposing U.S. self-interests.
Here is how Donald Trump wants to change current China-U.S. relations -- and push a new, America-first attitude...
Donald Trump's China Policy Proposals
In his trademark Trump style, the first thing the billionaire businessman says he'll do is "bring China to the bargaining table." That's according to his website, which lists his policy positions.
Then, once he gains audience with Chinese leaders, Trump said he'll declare China a "currency manipulator." In other words, Trump is saying China artificially deflates the value of its currency so that it can make its good and services more attractive to U.S. importers.
U.S. Corporations Capitalize on Washington: Every working American is required to pay income tax -- but not every major company must. In fact, 11 S&P 500 giants paid none last year, and 43 more were at least partially exempt. Here's a full list of S&P and Fortune 500 companies that didn't contribute to the nation's GDP...
In fact, currency manipulation is one of Trump's biggest grievances with the Red Dragon. He says China's actions have caused U.S. companies to lay off workers - especially in the manufacturing industry - in favor of cheaper goods and labor.
The presidential hopeful also says that he'll put an end to many export subsidies and easy-going labor standards that make Chinese workers so appealing to U.S. companies.
Here are the other main Donald Trump-China policies:
Trump says he'll lower the U.S. corporate tax rate to 15% so that companies in the states will be encouraged to stay. He also says he wants to reduce the nation's debt and deficit so that China cannot use "financial blackmail" against the United States.
Trump would increase U.S. military presence in the East and South China Seas to challenge China's military influence in the region. China is currently locked in territorial disputes with other Southeast Asian nations and has bolstered its military presence there in recent months. Many lawmakers in the United States, including President Obama, are primarily worried about freedom of navigation in the region.
Trump wants to end China's alleged theft of intellectual property in the United States. He supports tougher protection against Chinese hackers and counterfeit goods. He also wants to eliminate China's proprietary technology transfer agreements with U.S. companies. As a condition of entry in Chinese markets, many companies like Boeing Co. and General Electric Co. have had to hand over some of their technologies to China. Trump calls this "de facto intellectual property theft" and wants to adopt a zero-tolerance policy toward it.
Follow Money Morning on Facebook and Twitter.
China's Secret Bank: China's going for gold this summer. Literally. The country's state-owned ICBC Standard Bank just purchased a massive gold vault in London. And no one knows where the secret vault is located. Except for the Chinese, of course...